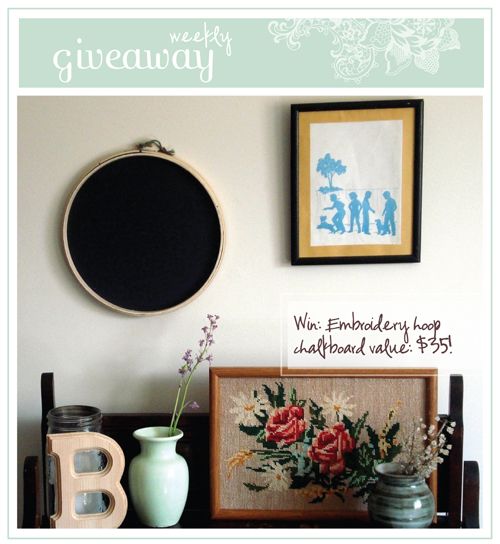 and the weekly giveaways continue! so i fell in love with this shop the minute i discovered it on etsy's pounce feature! their publicity has grown tremendously since then - i'm sure you've seen their charming little chalkboards just about everywhere! and if you haven't, then you simply must get over to the store immediately because there is just so much loveliness there :) becka of
bliss in a tea cup
has been so kind to donate a hoop chalkboard!
WIN: Embroidery hoop chalkboard valued at $35!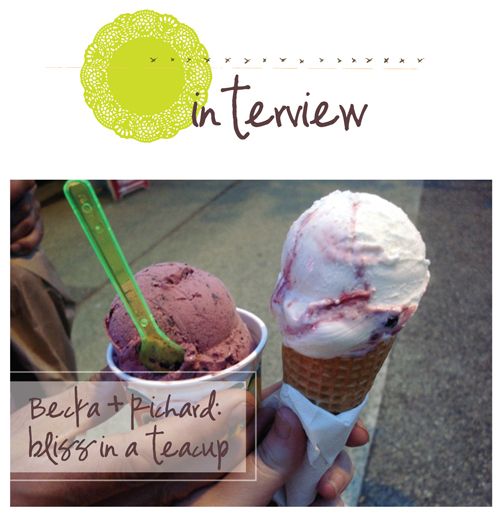 Please share a little about you and your shop:
Our shop is the work of my husband Richard and I, based out of our little apartment in Vancouver's Chinatown. We both have a love for thrifting, re-using objects and being able to fuse beauty and function. Both of us have rather eclectic tastes, so along with our range of chalkboards, writing slates and inspiration hoops, you're likely to find a bit of a rotating mixture of treats depending on what we've found on our most recent thrifting expedition!
How did you get started selling and making your lovely products:
Both of us have always loved making things, in fact Richard is a trained cabinet maker! Most of our furniture is from thrift stores or alleyway finds that we've refinished or repurposed, so working together on craft projects is something we really enjoy. Before opening our etsy store, I was selling my knitted items at a local boutique and was preparing for my first craft show, only it was Spring heading into Summer so I was experimenting with other ideas. This ended up in the two of us working on the range that is now in our store. As I mentioned earlier, we both really love being able to work together, and are lucky enough that our strengths compliment each other (thank goodness, I'm not sure that I would have the patience to cut out the perfect circles that Richard can!), we're crafty partners in crime!
What inspires you:
thrift stores, alleyway furniture finds, school stationary, outsider art, Modern design, old family photos, miss-matching, vintage upholstery fabrics, mixing weirdness and traditional beauty, cottages, lace...I could go on and on!
Favorite place to travel:
Everywhere! We both really love to travel, but some highlights have been Paris, Bergen and Barcelona. Getting out into the country, to the beach or just out of the city in general is a real treat for us so we try to do it as often as possible.
Favorite inspiration links, blogs, or shops:
Oh, this is such a tricky one! Richard is at work, so I got to pick these all out myself!
http://www.clevernettle.com/blog
(I love both her blog, and her two shops. She always inspires and makes me laugh!)
http://fieldguided.blogspot.com
(not only do these two make the sweetest ties, needlebooks and mugs but Anabela also seems like the loveliest girl ever!)
http://www.camillaengman.com
(Camillla's art never ceases to blow me away, I love it!)
http://meetmeatmikes.blogspot.com
(I absolutely love Pip! She makes me laugh, consistently finds fantastic links to check out and is always offering the best advice for us crafty types!)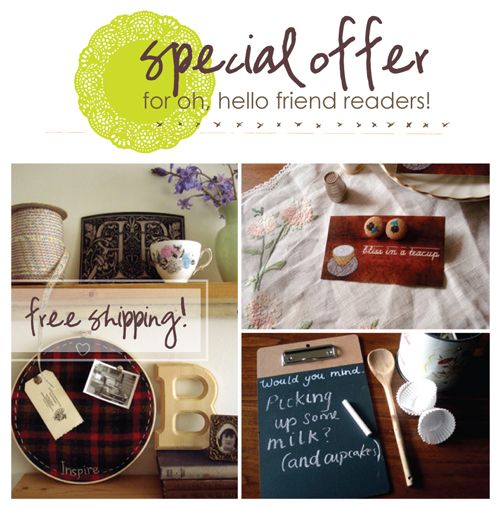 bliss in a tea cup
has extended an exclusive offer for oh, hello friend readers:
FREE SHIPPING
on any purchase, this week only! just mention 'ohhellofriend' in the message to seller and wait for a revised invoice before paying. that's like, a $10-$12 savings! how cool is that!?
Visit Becka + Robert's shop and leave a comment with your favorite
item! be sure to leave your email address so i can contact you if you win.
giveaway ends on sunday, june 21 at midnight, pst.