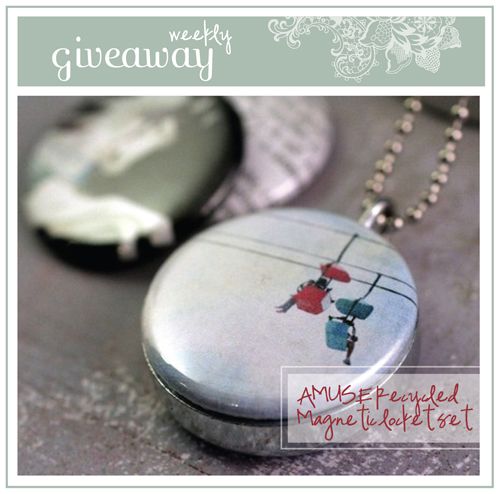 this week's giveaway comes from a very well known etsy shop: polarity! i'm sure you've seen cat's 2 shops around, her lovely items just can't be missed. she runs
polarity
: a shop with the most amazing lockets that are recycled from an auto part and
uncorked
: a shop with very unique cork necklaces and jewelry. this week you have a chance to win a locket set in collaboration with
f2images
. it is emiko's photo (from f2images) featured on the necklace - very cool ;)
check out cat at these places too!
blog
|
uncorked shop
|
twitter
WIN:
f2images AMUSE Recycled Magnetic
LOCKET SET valued at $18!
Please share a little about you and your shop:
My name is Cat Ivins and I live at the Jersey Shore. I make jewelry and houseware products. I have 2 Etsy shops; Uncorked and Polarity. I am committed with both shops to doing more with less and leaving the lightest possible footprint with my work through the use of sustainable, recycled and industrial products AND making things that are cool and beautiful!
How did you get started selling and making your lovely products:
Uncorked started as a way to get teen girls interested in math and science; it has evolved into more of a fun eco product. The sustainability of cork (cork is harvested every few years in a way that does not damage the forests) makes it a material I love working with. Polarity came about through my love of lockets and then stumbling upon these little steel parts in a garage - I took a welding class and learn to solder (which turned out to be the most focusing thing I do all day and I have grown to love it). Steel has an endless lifespan and can be recycled again and again.
What inspires you:
I am inspired by flea markets, crowds, loud music and equally inspired by time alone and time at the ocean.
Favorite place to travel:
NYC and the Pacific Northwest - love 'em both!
Favorite inspiration links, blogs, or shops:
For inspiration I love so many blogs! Some shops I love to browse include
Anthropologie
, Inhabitat,
ReFound Objects
,
Looolo
,
MaFurniture
,
West Elm
,
Pieces
,
StretchandCover
,
Relish
,
Velocity
.
Visit Polarity and leave a comment with your favorite
item! be sure to leave your email address in your entry! feel free to spread the love around your blogs, twitter, etc! it is greatly appreciated :)
giveaway ends on monday, july 6 at 8am, pst.