hurray friends! exchange details are
finally
here! apologies for the delay. i am really excited about the swap! i really hope for it to be a fun 'blog community' thing for us to do: to get to know one another and see each other's talents! please read through all the information, and be sure to sign up! ;)
information updated
:
august 6
sign ups:
closed
wow, we've reached over 250 people for the exchange!
thanks to all friends who blogged about it.
( updates )


August 6:

only a week late :) heh -- partners are now ASSIGNED! I am emailing everyone individually now! thanks for your patience with me!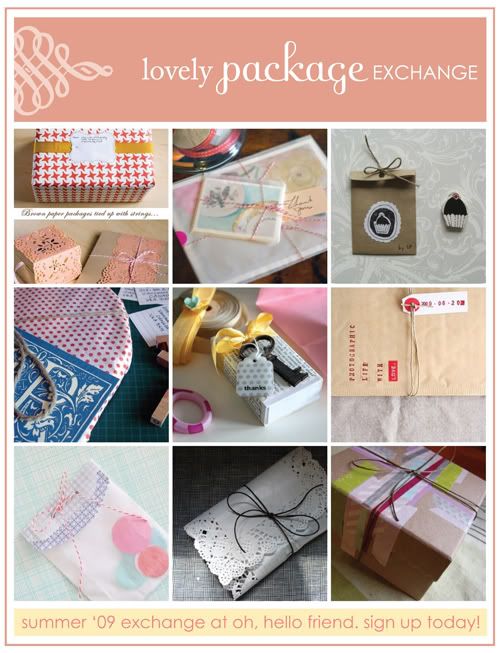 1. Pretty packages for clients :), 2. 3/365 ~ pretty packages, 3. magnets, 4. stamps and wrap, 5. packing., 6. Untitled, 7. Red + White Baker's Twine - sample, 8. Black & white lucky parcel sent, 9. happytape: japanese masking tape package gift wrap

The lovely package exchange is a swap of lovely things with an emphasis on ...
packaging
! It is for anyone who appreciates a
good package
: both receiving and sending them.
I love love love sending a pretty package - all the details, packaging, ribbons, papers, tags: it is so fun to wrap up and send something to someone special. and of course, it is so nice in return to receive a pretty package as well. I've received several of the most loveliest packages - you know, the kind that make you immediately bust out your camera to take pictures before you open it up! I've actually waited overnight to open a package once because I wanted to take pictures of a package I received during the daylight! (it was from madebyhank, hehe) Okay, I'm a bit of a nerd. but anyway, you get the idea of a lovely package ;)

So with that said, your package in this exchange obviously should have emphasis on the presentation, as well as of course the contents of what is inside! Here are all the details!
Swap Partners:
You can request up to 3 people to exchange with (this is if you want to send and receive more packages) or keep it simple and request 1 person! It's totally up to you. Of course, if you request 3 people, please be sure that you're able to put just as much effort into all 3 packages as you would into 1. I will do my best to pair you accordingly and with someone with similar interests.
Overseas:
If you live outside of the usa, you will be paired with someone who is willing to send overseas. If you are in the usa and willing to send overseas, that person you are sending to will also send to you - so you can receive something 'international' as well :) I personally love receiving packages from other countries!
Interests:
The form includes all necessary information so please fill it out thoroughly :) Also include any favorite links, etsy shops, etc so you can give your partner an idea of the things you like.
Ideas:
item ideas you can include in your lovely package: photograph prints, notebooks, pencils, stickers, stationery, pretty packaging supplies, pouches/wallets, eco-goods, stuffies, candles, coasters, pins, jewelry, scarves, bags, soaps, vintage goods, mix tapes. buy from etsy or local!
Flickr:
we have a lovely package exchange
flickr group
! -- to post all your images of packages sent and received! you can add package images for inspiration as well, if you'd like but there is also the group
nice package
! for now, visit the group for blog buttons to promote the swap.
Dates:
Sign ups will remain open until Monday, July 27 so you have 1 week to sign up, tell a friend! Partners will be assigned
Tuesday, July 28
and you will have about 2 and a half weeks to send your package! Please plan to have your package sent by
August 14
.
Sorry for this to sound so strict and take all the fun out of it, but I decided there must be requirements for the swap .. for everyone's safety ;)
So, you must have an active website to participate: whether it be a blog, shop, twitter, etc. Since there are not many ways we can regulate who joins, I am hoping by requiring that you have some sort of URL, that this will keep the exchange honest. Hopefully there won't be any people who join with bad intentions but you never know.
If you
do not
have any website to include, please email me personally and we can figure something out. I do want everyone who wants to participate to be included!
For a dollar limit, I would set it at anywhere from $20-$30. It is up to you if you want to spend more but I think that is a reasonable limit and a good quality package can be sent with that amount. If you own a shop, please don't just send $20 worth of items from your shop to promote your own shop... but feel free to
include
items from your shop in addition to something you might get for your swap friend.
If you join, you are committing to sending a great package!
Please plan to put some time and effort into the things you send, as well as how you present it. That is all I ask :)
I think that is about all! I hope I covered everything. Please
email me
with questions, concerns, or suggestions you may have. Any additional information added will be
updated here
, so bookmark this post and check back!

Please comment here with your form if you are signing up so I can get an accurate count :) I am not having you include your addresses, I will leave it up to you to email your partners once assigned, to get your mailing addresses from each other.

Name:
Website:
(blog, twitter, shop)

Email Address:
Location:
(city and/or state)
How many swap partners would you like:
(choose 1, 2, or 3!)
Are you willing to send overseas:
What are your interests:
(things you would like to receive, etc)

Favorite shops links:
Anything else you'd like to mention:
(special requests, notes, etc)

it'd be lovely if you could spread the word about the exchange and i'd really appreciate it :) i've created 3 blog buttons, for you to link on your blog. feel free to take them and resize them and please link them back to this post or here. each individual button is available
here in the lovely package flickr group
. there are also some 'inspiration collages' that you can post on your blog as well!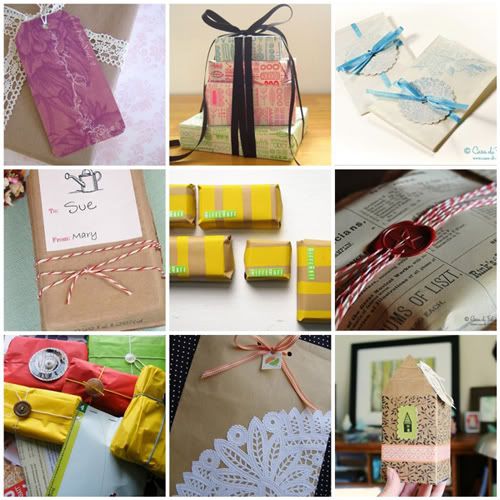 1. a Parisian moment, 2. giftwrapped presents, 3. Papiertüten, 4. Watering Can 2in 3, 5. yellow stripes, 6. Piratenpost, 7. sneak peek "a little fabric, a little chocolate" sent to chmihen, 8. Embalagens Laranja Limão 2009, 9. handmade house-shaped box.