please take a moment to visit + support our lovely sponsors the month of july:
carolynn + nell:
two brunettes
a simply lovely blog full of daily inspiration!
myisha:
springcart designs
lots of accessories, paper + home goods at this lovely shop!
susannah:
susannah conway
susannah takes the most amazing photographs.
(
so much lovely inspiration at her blog!
)
karen:
mon petit pois
lots of vintage clothing for sale at a great price.
(
she has also just opened her vintage shop at etsy!
)
sarah:
SD calligraphy
sarah has the most amazing correspondence + calligraphy.
(
see sarah's blog for lots of inspiration as well!
)
angie:
pangea store
beautiful collection of earrings, necklaces, bracelets, and rings!
sophie:
white poppy
lovely vintage necklaces + earrings!
( i actually met sophie at renegade san francisco! so lovely + sweet! )
jenipher:
cherry runway
a unique jewelry shop filled with lovely vintage goods.
( i met jenipher at renegade los angeles! she is adorable!
)
becky:
sugar plan invitations
beautiful custom letterpress invitations!
i love letterpress!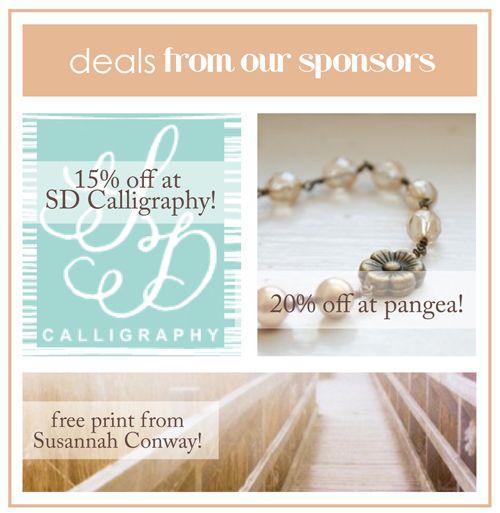 (
exclusive GIVEAWAY
! )
susannah conway
is offering a free 8x8 print to readers of oh, hello friend!
simply comment on this post to win
!
winner will be chosen july 31, 2009.
(
15% off at sd calligraphy
! )
SD Calligraphy: exclusive 15% discount to oh, hello friend. readers!
get custom tags, lettering, invitations!
Just let Sarah know you found her via oh, hello friend.
(
20% off at pangea store
! )
20% off all orders at pangea! wow!
angie's shop is filled with lots of beautiful jewelry!
enter code 'ohf20' at checkout!