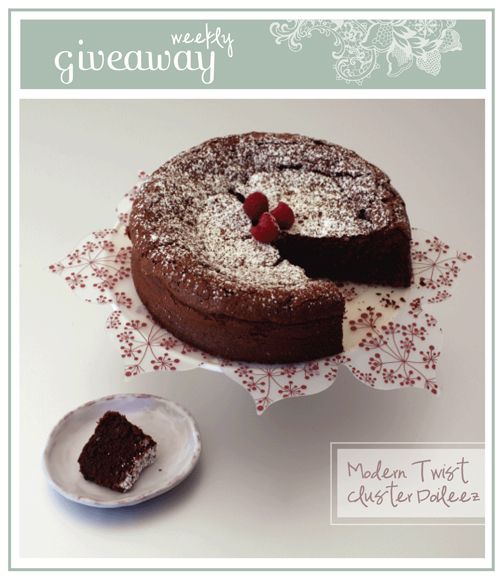 hello friends! i am very excited to bring you these most lovely
reuseable cluster doilies
, from a fabulous shop,
shoestring home
. mandi is a dear friend and runs this beautiful shop: i want to own everything from it! if you haven't heard of it yet, you simply must head on over and check out all the lovely items. be sure to check out shoestring home at the following places:
WIN: Modern Twist Cluster Doileez, $25 value!
Please tell us a little about yourself:
I like to mix things up. Patterns. Textures. Old and New. Modern and vintage. But I also think less is more, so I'm sort of a vintage minimalist. I believe that you can have a home full of beautiful things, even with small children--that you don't have to compromise your style or the design of your home because of the stage of life you're in. I have three boys and enjoy being the only girl in my home. I wear pink proudly, schedule salon appointments without thinking twice and own a lot of skirts. There is something about the way my boys adore me now, but will think their dad walks on water in a few years that makes this time I have with them right now invaluable. Finally, I cherish good friendships and close family. Because there is nothing that gets you through the really crappy times like people who love you. And if they have small children, that's a big plus. Chaos loves company.
Inspiration:
music, flowers, antique stores and other people's homes
Favorite place to travel:
Healdsburg, CA Some of our most favorite wine is made here. The hotel and restaurants are almost enough to make me a hedonist.
Favorite food:
risotto, but if you want my favorite junk food, right now it's Lay's Kettle Cooked Sea Salt and Cracked Pepper Potato Chips
Mandi's take on links:
I spend as little time online as possible. I find it can make me too obsessed with what everyone else is doing and not happy with what I'm doing; making me less present for my family and friends. So, when I need a good dose of inspiration, I walk away from the Internet and chase my boys around for awhile or plan what I'm going to make for dinner or de-clutter our kitchen and mudroom. (
i love this response
! since i so often can find myself spending entire hours + days on the internet..)
Visit shoestring home and leave a comment with your favorite
item! so many lovely things, see collage below ;) be sure to leave your email address in your entry! feel free to spread the love around your blogs, twitter, etc! it is greatly appreciated friend.
giveaway ends on monday, july 27 at 8am, pst.