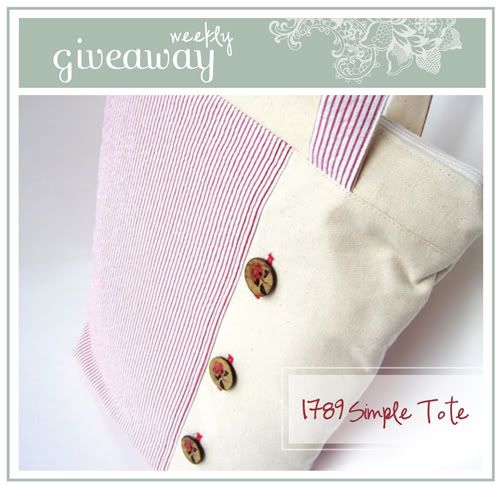 Becky from tortilla girl sews such wonderful creations! her signature soft french lace bags are to die for!
this is one
of my current favorite's. she also makes the most lovely tops and dresses, i would love to own this
ruffle dress
. Anyway, becky has been so kind to donate
this beautiful tote
in honor of July 14, Bastille Day: this little tote is a nod to the French Revolution. she has a lot of lovely sites so be sure to check her out at the following!
WIN: 1789 Simple Tote, valued at €35 euro!
Please share a little about you and your shop:
My name is Becky. I am a fashion designer and modèliste based in France who specializes in women's ready-to-wear clothing and accessories. I have a love for clean and simple lines, and my aesthetic is urban and romantic with just the right amount of edge.
How did you get started selling and making your lovely products?
One summer, I got a sewing machine. I taught myself to use it and wanted to draft my own patterns for my own designs. There are only so many things one can learn on one's own and I wanted to learn from professionals, so I went back to school for a double degree in fashion design/illustration and tailoring/draping in order to hone my design and construction skills. During my second year I worked an internship at a studio that designs and commercializes accessories in boutiques all over the world, and one of the many tasks they gave me was that of designing bags and making the prototypes, so I had to learn pretty quickly how to make beautifully constructed bags. I took advantage of this newly acquired talent by making bags on the weekends, and I opened a shop at Etsy where I started selling them. It helped pay for a lot of my art supplies and materials that school year! And that kicked off my online selling.
What inspires you?
Everything around me, especially art, architecture, period clothing, and nature. At the moment I'm inspired by impressionist "en plein air" painters of the 19th century, pre-raphaelites and outdoor picnics so my clothing is currently a reflection of that. Two years ago it was the New Look of the 50s and "rebel" movies of the period, like "The Wild One" with Marlon Brando so who knows what it could be next year? I like to mix themes because it keeps me creative.
Favorite place to travel:
No place in particular although I do love to travel. If someone offered me a plane ticket to go anywhere I'd like, I'd choose the U.S. so I could visit my family. Japan comes a close second.
Favorite inspiration links:
The Sartorialist:
thesartorialist.blogspot.com
Leanne Marshall's blog:
petalsandwaves.blogspot.com
Vintage Vogue flickr photostream:
flickr.com/photos/vintagevogue
Lovely Package:
lovelypackage.com
Montmartre's Sketchbook:
montmarte.blogspot.com
Visit tortillagirl.com or Becky's etsy shop and leave a comment with your favorite
item! be sure to leave your email address in your entry! feel free to spread the love around your blogs, twitter, etc! it is greatly appreciated :)
giveaway ends on monday, july 13 at 8am, pst.