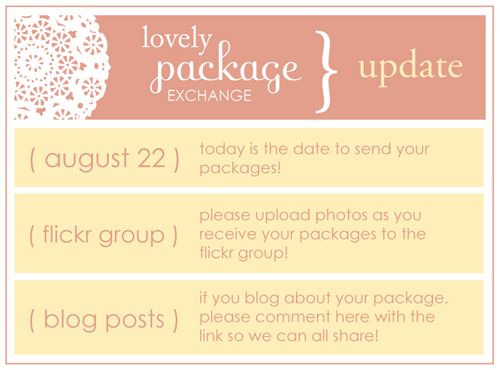 hello dear friends! hope your weekends are going well. just wanted to post a quick update about the lovely package exchange, for those of your participating!
August 22
- today was the date to have your packages out by. If your package is not sent yet, just keep your partners updated :)
lovely package flickr group
- don't forget to take pictures of your package! and if you get a chance, please upload them to the flickr group so we can all see your lovely package.
blog posts
- if you blog about your sent + received packages, please post the link here! I'd love to see everyone's packages and share them here in a follow up post!
and if anyone is having an issues or concerns with their partners or the exchange, please let me know. thanks everyone!
ps: i have received many emails and inquiries to whether or not there will be another exchange in the future - the answer is: most definitely! most likely in the fall or even a Christmas exchange! so keep an eye out!