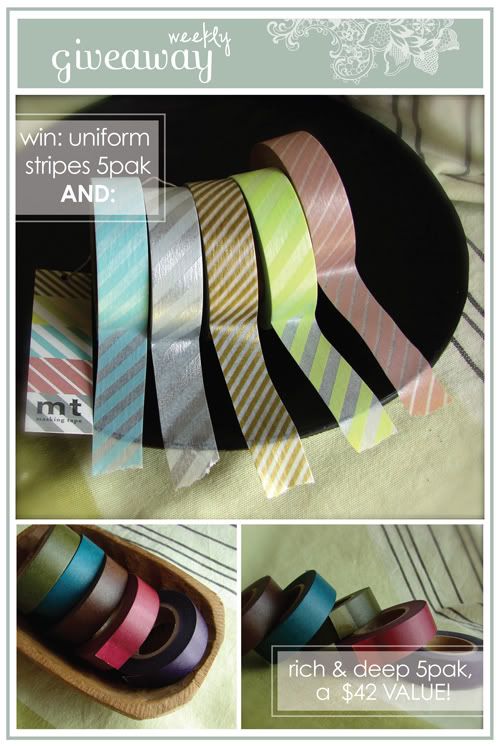 Today we have a lovely giveaway from
happy tape
! I was so excited when Tina said she would donate something for a giveaway! I'm sure all of you know about this tape: it is amazing! I love using it for projects, it adds so much and is something so simple! So anyway, this week you have a chance to win not 1, 2 packs that tina has so generously donated!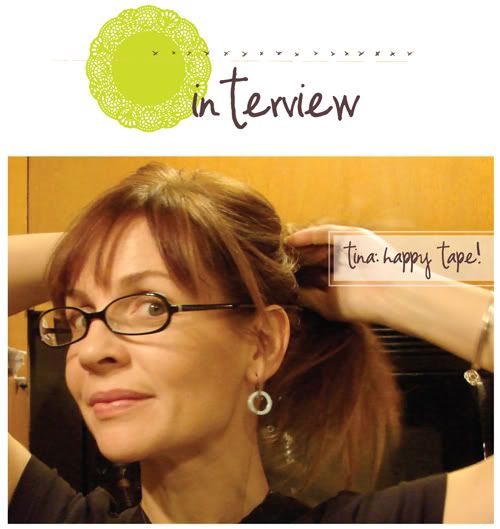 Please tell us a little about yourself and your company:
I grew up in Sacramento, California, but now I live in Iowa with my husband and three kids. Since 1994 I've been making sterling silver and enamel jewelry (I knew I got that BFA in metalsmithing for a reason!) and selling it on Etsy. Happytape! is my new venture, founded just this year. I started out small -- my original plan was to sell the tape only on my Etsy site, alongside my jewelry -- but apparently there was a hunger for cool tape in the world and the business exploded pretty much overnight. It went from a small retail-only company that I handled by myself to a larger retail/wholesale company with several employees.
What do you like about tape?
Two years ago I made a book for my husband's 40th birthday that included 40 haikus from people who loved him. I wanted to tape each haiku onto this bulletin board/collage design, and I had this vision that the tape would look torn, but after searching everywhere I couldn't find the kind of tape I wanted. The closest I got was bookbinding tape, which was beautiful but didn't tear at all.
Last year I came upon this Japanese washi paper tape, and I immediately had to have it. I love that it's a little transparent, layers nicely and tears easily. Plus it's repositionable and comes in amazing colors and patterns (my favorite is the silver stripes 2pak), which makes it perfect for art projects. Or just wrapping a really lovely gift.
What inspires you?
I just got back from an amazing vacation, so I guess relaxing on a beach inspires me! I'm also inspired by my artsy kids and happy family. Artistically, I love visual repetition and unique color combinations.
Current favorite band or song:
The Decemberists have been my favorite for a long time, but I'm playing Bon Iver's "Skinny Love" over and over lately. My favorite playlist usually also includes Andrew Bird, Radiohead, The Arcade Fire, Elliott Smith, and Fleet Foxes. And I love Joanna Newsom.
Favorite blogs/shops:
Modish:
http://www.modishblog.com/
The CarrotBox:
http://www.thecarrotbox.com/news/index.asp
Oh Happy Day:
http://jordanferney.blogspot.com/
Oh Joy:
http://www.ohjoy.blogs.com/my_weblog/
Daily Poetics:
http://www.dailypoetics.typepad.com/
Jennifer Davis:
http://www.etsy.com/shop.php?user_id=5017268
Visit happy tape and leave a comment
with your favorite roll of tape or set, what you like about her shop, whatever!
Be sure to leave your email address in your entry! feel free to spread the love around your blogs, twitter, etc! it is greatly appreciated friend.
giveaway ends on monday, august 24 at 8am, pst.