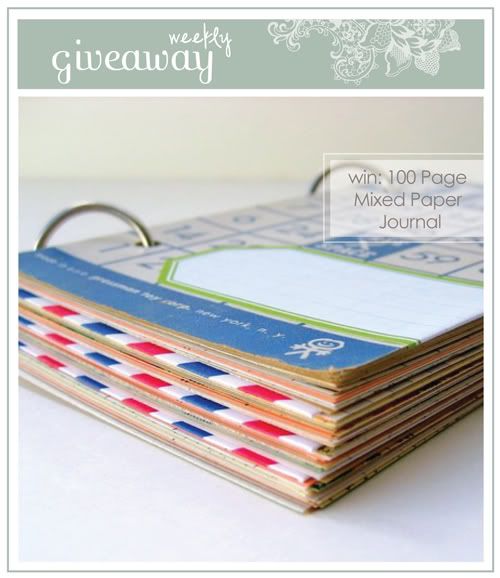 This week we have a very special shop participating in the giveaway -
found paper co
! Run by my dear friend, Xenia, found paper co offers beautiful vintage finds, along with one of my favorite things to collect: vintage paper! Xenia makes lovely notebooks found from old papers and they are just fabulous. Be sure to also check out her
blog
as well, i esp. love her weekly 'affordable treats' columns.
Please tell us a little about yourself and found paper co!
One of my favorite pastimes as a child was collecting stickers. The vast majority of my collection came from parents – to reward good behavior, as birthday gifts, and such. My other favorite pastime was selling these stickers back to my parents. I would cut out the individual stickers, write a price on the back of each, spread them out on my bed, and invite my parents to my "sticker sale". Of course they graciously purchased the stickers they had just bought for me the day before. I was quite the businesswoman.
I decided to upgrade my business from sticker sales in my bedroom to found paper co. in June of this year. It is stocked with vintage paper of all sorts and a few handmade items, including Mixed Paper Journals made from my embarrassingly large paper collection. Don't worry though - I also can't pass up a good vintage metal tin or a single vintage button. You'll find all of these at found paper co. too!
I imagine your shopping times can be super fun as you find such fun vintage finds: do you have a best/memorable shopping story that you can share?
I certainly wouldn't call this my best shopping experience, but it is one of the most memorable from the past couple of weeks. I found an ad on Craigslist for an "estate sale" that sounded pretty promising. It wasn't in the best part of town, so I dragged my boyfriend along with me. When we got there it was really messy outside and something just felt off. (Trust your instincts!) When we went inside the place was trashed, there was a scruffy dog wandering around, and the smell gave me a stomachache. Needless to say, we didn't stay long. As we were walking out we heard the owners say it was a foreclosed house they had bought in order to "flip" for profit, and were using the "estate sale" to clear out the place for them. Sneaky and gross, but pretty smart , I guess.
Where do you find all your lovely treasures?
Most of my vintage finds come from digging around flea markets / estate sales / thrift stores / garage sales. Since moving to Connecticut from California, I have attended a few barn sales which are a lot of fun! I am also lucky to have the help of my mom, who is responsible for my love of vintage. About once a week she sends me a package full of goodies from her own weekend shopping. She uses the flat rate Priority Boxes, and I am always shocked at how much she can stuff inside!
Favorite inspiration links/blogs/sites:
Vintage Rescue Squad
- A good mix of witty commentary and fun pictures from her garage / estate sale adventures.
lovely design
- Having a studio (and house!) decorated like hers would be a dream come true.
NieNie Dialogues
- Most inspiring of them all, and definite read if you are not familiar with her story.
Any advice you have for aspiring shop owners/bloggers:
My best advice would be to keep working at it, even if you don't have immediate success. Setting up a blog or Etsy shop seems like the tough part, but drawing people in is actually much more difficult. Give yourself time to get noticed. In the meantime work on perfecting your craft – experiment with your writing style, hone your photography skills, improve your product.
Visit Found Paper Co and leave a comment
with your favorite item from their shop.
Be sure to leave your email address in your entry!
feel free to spread the love around your blogs, twitter, etc!
it is greatly appreciated friend.
giveaway ends on monday, october 5 at 8am, pst.