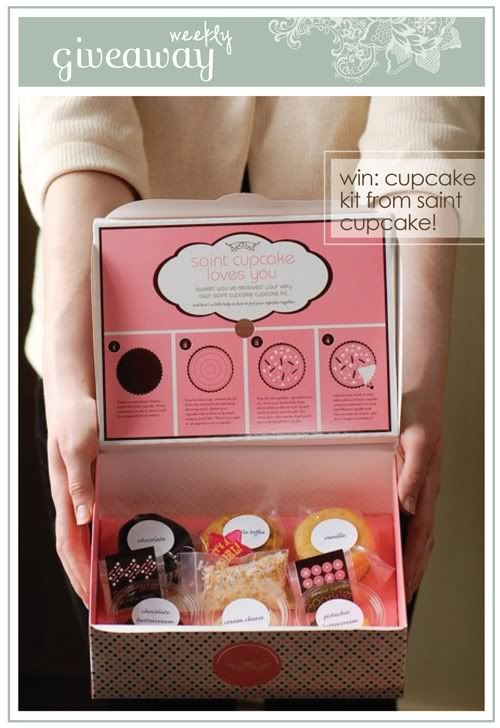 who doesn't love a cupcake? this shop is the most charming cupcake shop ever and i am so excited to feature this giveaway! saint cupcake is based in portland and offer these fabulous cupcake kits for only $21 with shipping included. you get to choose 3 flavors, including frosting + sprinkles! their whole presentation and packaging is just adorable too. if you live in portland, you are one lucky duck since you can visit their location and get any cupcake you want!

website
|
blog
|
etsy shop
win: their signature cupcake kit, $21 value!
you get to choose your own 3 flavors! :)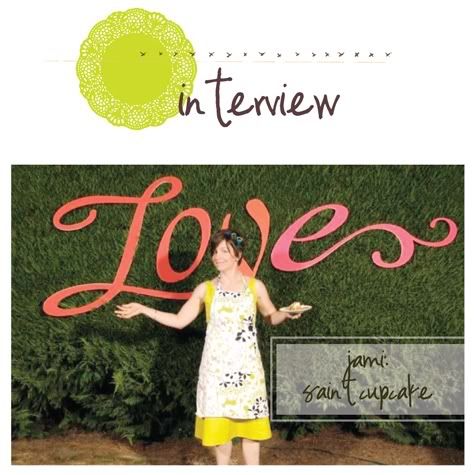 Please tell us a little about yourself!
I live in Portland, Oregon with my husband and 2 and a half year old son. I am obsessed with food - all kinds of food. I love thinking about food, making food, eating food, writing about food, writing about thinking about food - I could go on and on. about food.
How did you get starting in baking?
I have always baked - but I didn't start baking in exchange for actual money until I was in my mid-twenties. I had a small baked good catering business and made wedding cakes and other delights for the people of portland. As my 30th birthday was approaching I realized I REALLY needed to make a change in my life, so I quit my job, found a space and opened Saint
Cupcake
.
What do you love about cupcakes?
I love that cupcakes make people so happy. I love that grown women actually burst into tears when we are sold out of Red Velvet for the day (true story!) I love that cupcakes turn any occasion into a true party. what I love most about (good) cupcakes is that you get to eat them!
Favorite place to travel:
Since opening a business and having a baby, I have traveled very little in the last few years...so sad. because I am never quite brave enough to leave town (and the bakery) for long spells, we've been taking shorter trips lately and I have completely fallen in love with Astoria, Oregon - which is just a short drive from Portland. It's such a quirky place - filled with a lot of history and even more strange stories. And tons of HUGE ships, which my son really loves.
What is your favorite
cupcake
flavor or your favorite
cupcake
to make:
I love to eat our simple vanilla buttercream on a chocolate
cupcake
. So simple, so delicious and so sweet.
Visit Saint Cupcake Shop or see their menu and leave a comment
with
your favorite cupcake combo! (flavor, sprinkles, frosting)
Be sure to leave your email address in your entry!
feel free to spread the love around your blogs, twitter, etc!
it is greatly appreciated friend.
giveaway ends on monday, september 21 at 8am, pst.