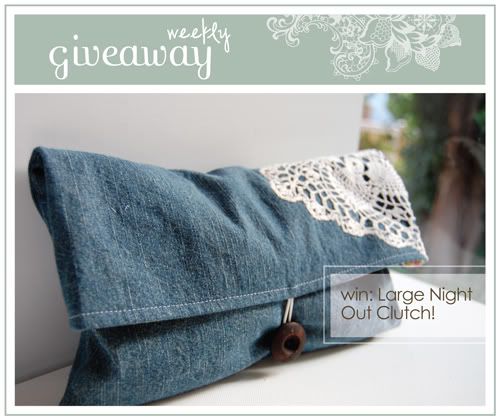 Hi friends! For our giveaway this week, we have a beautiful lace clutch from Jessie at
Tiny House
! She makes the most lovely items and is just the sweetest! and she lives in Seattle, my favorite ;) Be sure to stop by her blog for some tutorials too!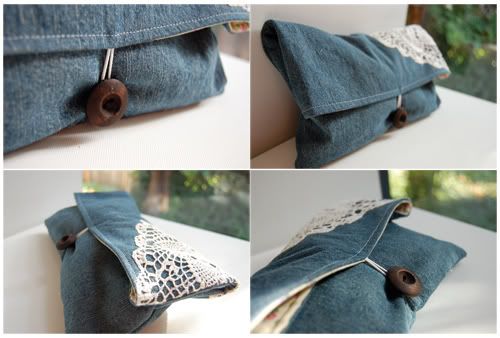 Large Night Out Clutch
: This clutch is perfect for a night out on the town. Pretty and stylish--and roomy to boot--this purse will hold all of your essentials. Denim outside, with a pretty vintage doily applique, and lined with a beige floral cotton. A wooden button and elastic loop keep it closed. Double-interfaced for sturdiness. Closed, it measures approximately 7" x 12", and opened it measures 12" x 12". Retails for $25.
Please tell us a little about you and how you got started with your shop:
I have a degree in visual art from the University of Washington, speak a bit of Spanish, and have been a waitress, receptionist, assistant, book keeper, tutor, and nanny. Now I'm a picture-taking, sewing, painting, drawing, knitting, quilting, card-making, thrift store shopping, stay at home mama to one little boy. I'm also working on my birth doula certification, and look forward to helping many women and their partners bring their children into the world.
How did you get started sewing and making all your lovely things:
I have always loved to make things with my hands, whether drawing, sculpting, painting, sewing, or scrapbooking. My latest sewing obsession began when we were living in Boston and needing extra money, and has evolved into a part-time position that I can do while caring for my son.
Favorite place to travel:
I love road trips! My family has always taken trips to visit family, leaving Washington state and driving either to California, Nevada, or Arizona, or to South Dakota, Illinois, and Minnesota, depending on who we were visiting. I really like visiting all the special places along the way, like Crater Lake in Oregon, Devil's Tower in Wyoming, or the Grand Canyon in Arizona. Someday, I hope to do a European tour--hitting all the big cities, as well as some of the more quaint villages.
Any advice for aspiring artists and people who are thinking about opening a shop:
Do it! There's never going to be "the perfect time" so just jump in! Etsy is awesome for me, but I've heard good things about Dawanda, 1000 Markets, and various other online venues. I also have good luck at local farmer's markets, and craft fairs. Fortunately the Seattle area is great for artists and crafters!
Favorite inspiring links + blogs:
As a mama, I love to read Amanda Blake Soule's blog, http://soulemama.com, as well as Erin Wallace's blog at http://bluebirdbaby.typepad.com/. Both of these women are inspiring in so many ways, and their photographs are beautiful.
Visit Tiny House and leave a comment
with your favorite item from their shop.
Be sure to leave your email address in your entry!
feel free to spread the love around your blogs, twitter, etc!
it is greatly appreciated friend.
giveaway ends on monday, september 28 at 8am, pst.