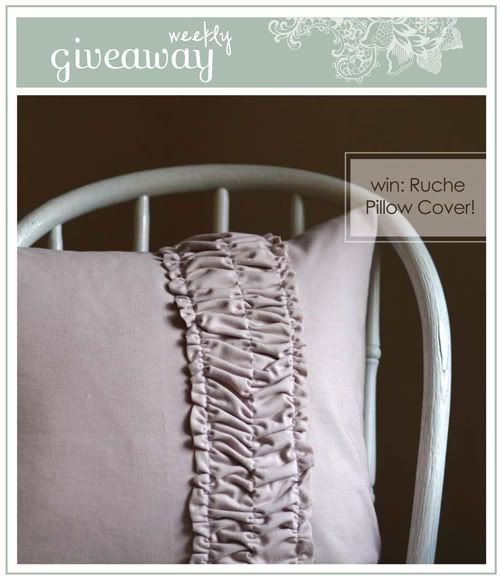 have you been to
hettle
yet? when i first came across this shop, it was an immediate favorite for me. i mean, pillows + ruffles? it's the best combo! gina makes the most pretty pillows, i want to furnish my whole place with her ruffle pillows :) one lucky winner will receive this
lovely pink ruche pillow cover
!
Please tell us a little about yourself?
A little about me.....I am a self employed graphic designer and professional photographer, I have always made things, it is where I feel most myself and content. I opened my Etsy shop just over a year ago so I could take a little break from the computer everyday and get back to handmaking things. I am also a single mom to two lovely little ones who make me nuts and happy all at the same time.
How did you get started in sewing and making all your lovely things:
After I graduated from art school I taught sculpture for a while, which led to an interest in fabric as a material to make things, over the years I just used the material in a more practical way. Eventually I felt that I needed training so I took sewing classes from a seamstress and made mostly dresses and my own patterns. I was hooked!
Where do you find inspiration?
Definetly Fashion and art. I am attracted (and obsessed) to all things with folds and volume and embellishment. Also anything that has a texture, just going for a walk makes me look at the texture of things around me and how it translates into something wearable or for the home, It's an interesting way to look at the simple things that are all around you.
Favorite Inspirational blogs/shops/links:
(too many and so hard to pick favorites!) |
decor8blog
|
creaturecomforts
|
thatunreliablegirl
|
urbanweeds
|
readymade
|
dooce
rizzoliusa.com
(wonderful collection or art books)
style.com
( fashion)
photoshopdisasters
( funny)
Visit Hettle and leave a comment
with your favorite item from Gina's shop.
( NEW! EXTRA CHANCE TO ENTER! )
an opportunity to gain one extra entry and chance to win! simply twitter, facebook, or blog about this giveaway and come back and comment with the link :)


Be sure to leave your email address in your entry!
come back next and check the blog to see if you are the lucky winner!