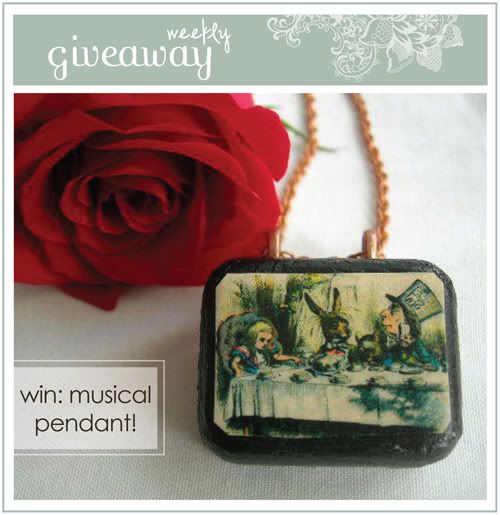 have you been to
clockwork fantastica
i stumbled upon this shop by browsing through big cartel shops and i knew i had discovered a treasure. ola makes beautiful clockwork pendant necklaces from vintage findings. this week you have the opportunity to win one of
her musical pendants
!
win: Alice at the Tea Party
Musical Pendant
a $50.00 value!


Hello! please tell us a little about yourself!
Hello! Well, I think like most of the people who read this blog, I enjoy being creative and I appreciate handmade things. I'm also very interested in vintage mechanica, life before the data chip. Not only do I a collect and enjoy music boxes, but I'm also THRILLED by manual typewriters and I own a few. I have a strong nostalgic streak.
Please tell us about your fabulous music boxes and how you got started making them:
It did take a while to get going - I was so fascinated by mechanical music boxes and how they work, and how they are made that I did a lot of reading and research before attempting to assemble my own creations integrating them. As a result of all of that I have mentors and friends who've been dealing with music boxes for years, so I'm very fortunate and grateful for that.
I make clockwork music box jewelery using vintage elements that I like - that means a lot of colour and vibrancy although I also DEEPLY appreciate refined minimalism and the darker Victorian styles. All of the jewelery contains an inches small music box that really plays. So it's like having a little music box with you wherever you go. They've been really popular because of that, and I've learned they also make VERY charming gifts, especially for someone who never had one. Everything in my shop is designed and created by me so they are made in small numbers, which fortunately some people do like, since it makes them a bit exclusive. They are mostly available in person at shows and some are available on my site and in giveaways, like this one.
Any advice you have for aspiring craft/business starters
: Yes,
be
original
!
Visit
clockwork fantastica
and leave a comment
with your favorite item from the shop.
( EXTRA CHANCE TO ENTER! )
wait! there is an opportunity to gain one extra entry: simply twitter, facebook, or blog about this giveaway and come back and comment with the link :)


come back next and check the blog to see if you are the lucky winner!


giveaway ends on monday, november 23 at 8am, pst.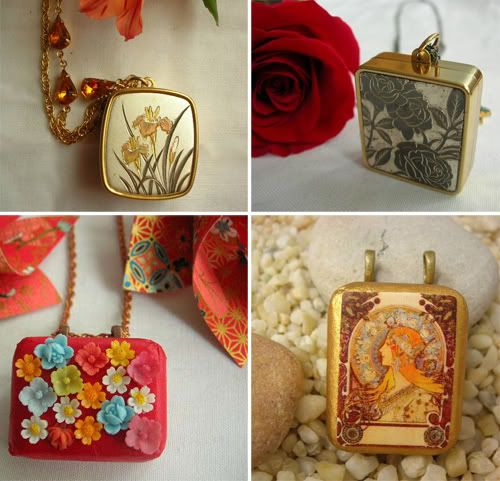 ---
ps: the giveaway for last week's giveaway from
and furthermore
is:
#124
, congrats to
MH
! please email me with your info! :)