faire houre shop
blog
+
flickr
goodness, this is one of those shops where i seriously can't decide which item i'd choose because every single thing is so lovely. Jenilyn has been making clocks for a couple years now. when i asked her how she got started making such beautiful clocks, she had such a fabulous and special story:

"My Great Grandfather made mid-century furnishings and he handcrafted a beautiful clock that was kept above their fireplace. I recently visited my Great Grandmother and the house was exactly the same and I remember when I was growing up, and the clock is still in the same spot. When I was young my father made our family clock which chimed, and somehow it kind of became our family symbol. Whenever I visit my parents and I hear the clock chime all kinds of fun family memories come back. I just think that clocks have a beauty all their own and I genuinely love to make them. There is something about taking several unrelated objects and creating a clock that literally comes to life. I guess I took my love of clocks and combined it with my love for beautiful china and thought I could really have fun with it."

if you're in the need for some inspiration, even jenilyn's styling photos for the clocks are beautiful. i just imagine so many lovely little corners in her house that make for amazing photos: i want little corners and walls in my home that look like hers ;) just look at some of these photos!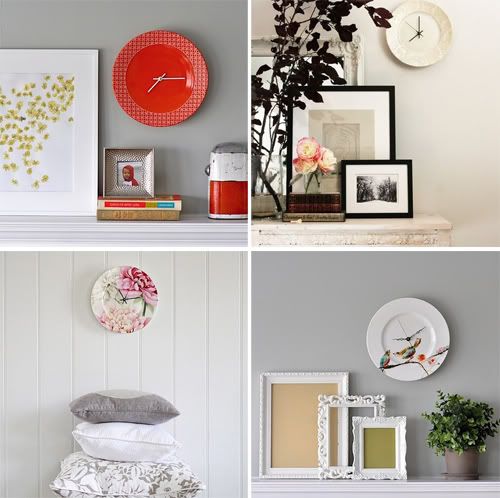 or if you need a gift for someone, this would make such a fabulous gift. also see
faire houre blog
or her
flickr
for an archive of all the clocks and photos.
be sure to stop on by to
Faire Houre
and treat yourself to one of these special clocks!