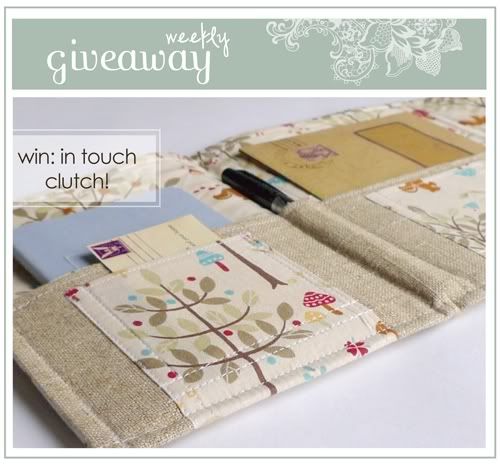 hello lovelies! hope you all had a wonderful weekend. this week we have a very generous giveaway from
downstairs Designs
, a shop that features handy clutches and phone cases in beautiful fabrics. jennifer is just the sweetest and provided a super interview below.
one
lucky winner
will receive an
in touch clutch
and a
2nd winner
will receive an
in touch pouch
of your choice! happy monday!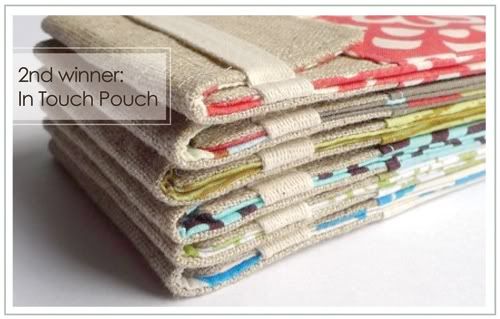 Hello! Please tell us a little about yourself!
I am in my late (yikes! already?) 30's, with a lovely red headed daughter and sweet husband, living in the heartland. I was a business major, computer programmer and financial analyst for years and very unhappy. I left the corporate world to become a professional chef and found so much pleasure in creating for others with food. A series of events led me back to the corporate world for a while with this business as a hobby. Well, I call it the hobby gone wrong now! I left my "day job" at a university over a year ago to run Downstairs Designs LLC full time and have never been happier!
How did you get started sewing?
I have been sewing about 8 years now. The beginning was a desire to make my mom a quilt for Christmas one year, so I set out with my grandmother's old Singer Featherweight and a 1960's text book on sewing and taught myself how to sew. After that I took a quilt class, and learned many ways to make the process so much easier (rotary cutter! templates! rulers!) and make some quilts. After an accident left me with a recovering broken back and unable to continue cooking as a chef full time, I started sewing and it took off from there.
What inspires you from day to day?
My customers a LOT! I sell at a farmer's market all summer long and get so many product ideas each week after talking to my customers about their needs and wants, and Etsy customers with their creative custom order ideas too. Identifying a need that I can't fill elsewhere. With the clutches, I could find really corporate-looking organizers, but that wasn't the feel I wanted for myself and was lucky that many others have felt the same way. I also have a hopeless addiction to Japanese craft books and all things zakka. My six year old daughter and sweet supportive husband are also an endless supply of inspiration!
You've had a lot of great success with your shop, any advice for friends who are thinking of starting up their own shop:
Do what you love to do. I know that sounds trite, but it is true. Learn all you can, all the time. I still take classes, I buy how-to books and patterns, all to expand my knowledge base (I just learned zippers this weekend!! Can't wait for new pouches to be added to the shop!). Don't take shortcuts- being inspired by another idea and making it completely your own is wonderful, stealing and copying work is not. Don't be in it for the money only-I see tons of sellers in my craft shows make things because they can and not because they love to, and so they never have that connection and invariably end up being far less successful.

downstairs Designs
has generously offering a special discount for oh, hello friend readers. receive
15% off
your entire purchase! (before shipping) enter code "ohhellofriend15" at checkout and you will receive refund via paypal.
Visit
downstairs Designs
and leave a comment
with your favorite item from the
shop
.
( EXTRA CHANCE TO ENTER! )
wait! there is an opportunity to gain one extra entry:
use this short link on twitter: http://bit.ly/dbdkVz
simply
twitter
, facebook, or blog about this giveaway
and come back and comment with the link :)
please check back next week to see if you are the lucky winner!
giveaway ends on monday, february 22 at 8am, pst