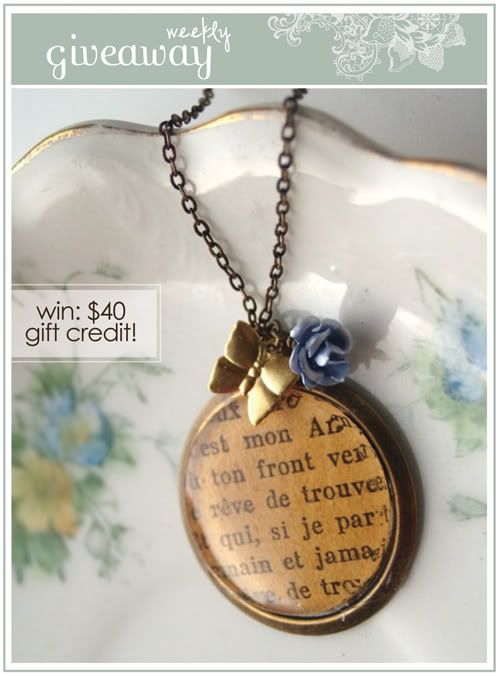 this week we have a lovely jewelry giveaway from
proteales
! samantha runs a very unique jewelry shop that features many one of a kind items. her designs are so sweet and special. i'm excited to feature this $40 gift certificate giveaway this week, that can be used on anything in her shop. she also runs a cute
handmade + vintage shop
, be sure to check out all her links!
win: $40 gift certificate
!

hello! please tell us a little about yourself and your shop! My name is Samantha and I was raised in a small town in West Virginia. I currently live in Maryland with a husband and a chinchilla who both keep me on my toes! I have a Bachelors Degree in Photography and a Masters Degree in Teaching. With the current economy, I was unable to find a teaching job, so I work part time in a bead store and I spend the rest of my time working on my Etsy shop!
In my shop, I specialize in custom one-of-a-kind jewelry. I love working with vintage glass & findings, which automatically provide an opportunity for one-of-a-kind-ness! I love incorporating little pieces from old books or pictures too. I am also a self-taught metalsmith, which is opening so many doors for me. You should see the amount of jewelry I have made just for myself!
how did you get started making jewelry: I got into making jewelry at an early age. I've been surrounded by it my whole life. My dad was a rockhound and would take me along when going to gem shows or when digging for them right out of the ground. These times with him not only gave me beautiful things to look at and adore but also little tidbits of knowledge that are still rolling around up there somewhere. My mother used to make rosaries for people in our church. I remember being fascinated by all the pretty colors of beads sitting in their storage boxes and being amazed at a final working product. She would always take time out to answer my numerous questions about her technique. Our cousins owned a jewelry shop where we would spend a lot of time just hanging out. We would all get together when their suppliers came into town. They were amazing people who spoke foreign languages and brought jewels and gems that became a part of my childhood.
any advice for aspiring small business starters: I opened my Etsy shop in May of 2009. Since then, I've had over 270 sales! I am so excited to be a part of the handmade community and be able share my talents with the world. My number one recommendation is awesome photography. You need to be able to reach out and grab people with your photos! Your photos should scream, "I (your product) am awesome and you cannot live without me!" The Etsy forums are FULL of tips and tricks and I definitely recommend hecking them out. I will tell you to remember to shoot in natural light, turn off your flash, and use your macro setting!
I also recommend FREE shipping worldwide. Especially for light items! It seriously only costs me pennies more to ship to India or the UK than it does to the next town over! Check out your options. I don't know how many times I have had an item in my cart and then decided not to go through with the sale because shipping added up to more than I wanted to spend for the total. Think like your customer would think!
( COMMENT TO WIN: )
with your favorite item from samantha's
shop
.
( EXTRA ENTRY: )
twitter
,
facebook
, or blog about this giveaway.
come back and comment with the link :)

if you twitter, please tag it with @ohhellofriend so i can track your tweet ;)
you can also use this short link:
http://bit.ly/cXLdIk
giveaway ends on monday, march 22 at 8am, pst
please check back next week to see if you are the lucky winner!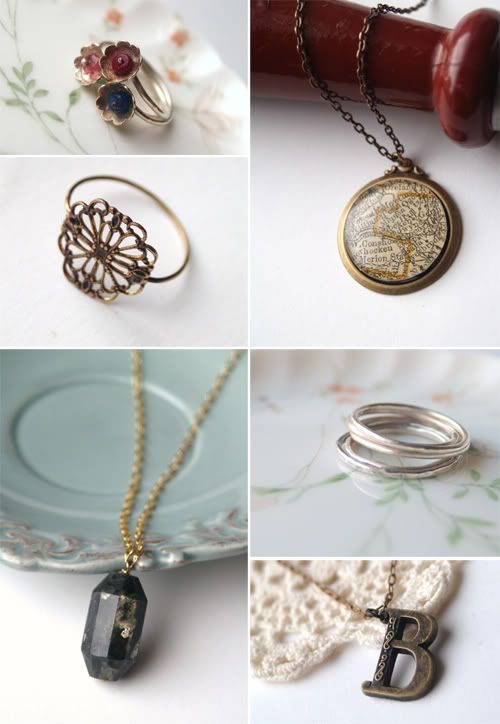 ---
last week's giveaway winner:
thanks to the sweet
katie
who generously donated the garlands and hair pin!