today we have the sweet becky from
sugar plum invitations
with a great interview, answering some basic letterpress questions. be sure to stop by her lovely
blog
as well!
. . . . . . . . . . . . . . . . . . . . . . . . . . . . . . . . . . . . . . . .
Please explain letterpress:
Letterpress printing is a relief print, where an inked image is pressed into a sheet of paper. It's the same type of printing that Gutenberg used in the mid-15th century. It was the common form of printing for centuries and used up until about 60 years ago. Letterpress printing gives a great textual impression, especially if combined with heavy cotton rag paper. It's a unique look and feel that other forms of printing can't match. Each one of our pieces is hand fed through one of our vintage Chandler & Price Craftsman Presses.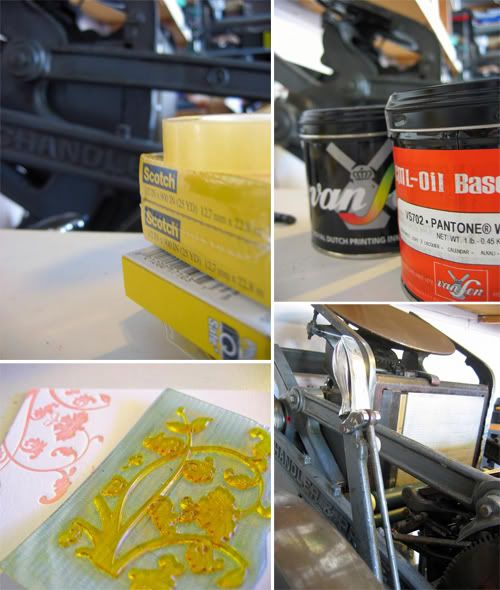 How did you get started in letterpress?
My husband Troy was intrigued by the idea of vintage printing. We saw a few in action and then the beautiful results and we were hooked. It feels like a very personal way to print, each piece of paper is hand feel through the press for each color. There is lots of human touch involved. We're happy to produce something that requires a lot of skill and care.. much more personal than a laser printer! ( It's nostalgic, comforting and made at home with love.) I love mixing and using color when printing.. it's rather magical to watch an old greasy machine print something colorful and crisp!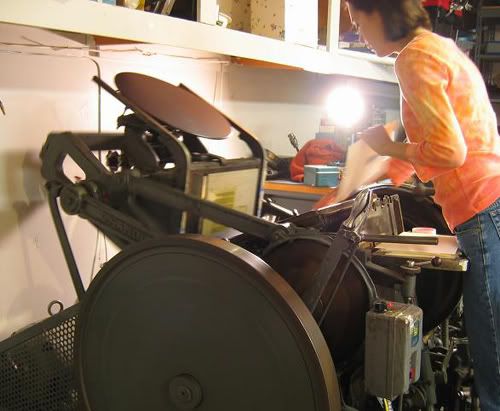 How does letterpress printing work?
We have a custom plate made (think of it as a stamp) for every design and text used. We ink the press with one color.. say green. We then place the plate (with only the parts we want in green ink) into the press and align it with our paper. (Making sure registration and alignment are correct can take a long time sometimes an hour to get it perfect.) We then hand feed the paper through press, one sheet at a time. The ink dries. We tear down the press, clean it, and then re-ink and put in another plate to print the next color. Repeat. How do you say "time consuming?"
Why is letterpress printing considered a "vintage" form of printing?
It's a vintage form of printing since we're using the same methods used for centuries. Just about everything is done by hand. Letterpress presses stopped being manufactured 40 years ago, and the printers that knew how to use them are dying along with this form of art. It's exciting to see a new generation of printers carry on this unique and beautiful form of printing. It takes a lot of time, patience and skill, but it's oh-so worth it. Especially in our fast pace lives of e-mail and texting , letterpress notes and invitations feels so elegant, special, hand crafted. It reminds me of when friends give me a jar of homemade jam. I appreciate all the work that went into it and cherish it all the more. Letterpress printing is a beautiful form of art, we love preserving.
How long does it take to print?
It depends on how many colors we're doing, and how complex the designs are. A large wedding invitation set 2 colors with custom cutting can take all day.. 6-8 hours.
What press do you print on?
We have two full size Chandler and Price Craftman presses, 60 and 90 years old!