press: 1913 10x15 new series chandler price platen press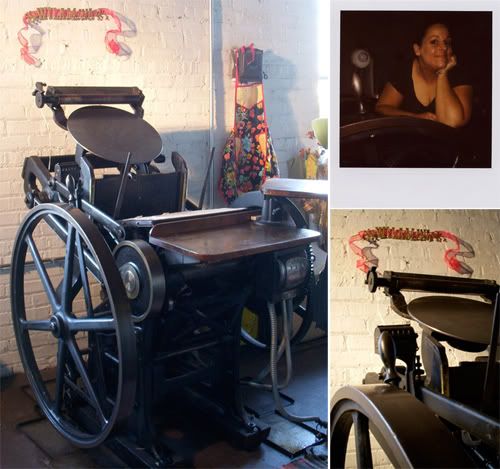 her story: as far as stories go, once i decided to finally get my own press & stop renting one, i was obsessed. i would check craig's list, ebay & briar press almost hourly.
i emailed paul aken of the platen press museum in zion, illinois thinking he was the best contact for a chandler price platen press. unfortunately my email bounced back, he had switched email service providers & i had his old address. it took about 3 months of obsessing & searching high & low. since i had invested a minimum of 3 hours a day searching i knew what was available and where... and trust me, there is a lot of sad presses out there that need lots of work to get up & running. i came across a craig's list ad for someone wanting a table top press. i had seen four for sale earlier in the week & thought i'll send a quick email & let that person know. after a little back & forth letterpress-junkie-chatting, i mentioned i was looking for a 12x18 or 10x15 c+p. the girl sent me paul aken's new email address & suggested i contact him. i couldn't believe it! i was sure it was good karma coming back to me for taking a few moments & sharing my knowledge with another letterpress zealot looking to purchase their first press.
i emailed paul and by the next day he provided the name & phone number of a print shop here in chicago wanting to sell their 1913 10x15 new series chandler price platen press. i called immediately & made an appointment to see the press that evening. the moment i saw her i knew she was mine! it was the first press i had seen in 3 months that was in good, clean, well oiled condition. i didn't even have a space to put her but i was positive if i waited she would be gone. i put a deposit down that night. it was a tuesday & i was told the press needed to be out of the shop by that friday. i didn't even care. i started making phone calls & started getting worried thursday evening when i had yet to find a space for my new-to-me press. i was very fortunate that my offset printer, corporate graphics of america, offered to house her until i had a space. Bill Goers is the owner & actually the reason i named my press wilamina. he housed her for two full months before i found a space that i could both afford & had floors that could support the press.
thanks for sharing your lovely story with us amber!