okay, i just caught up with the last episode of project runway and had to post about it. is anyone watching this season? i think i said before, fashion/art/design is so truly subjective!
this whole season has been so crazy, i can't believe the finalists are emilio and mila (well, up against jay) i mean, earlier on in the season, i totally thought it would be amy, maya, and seth aaron. i also really do like jay's work. let's just compare! :)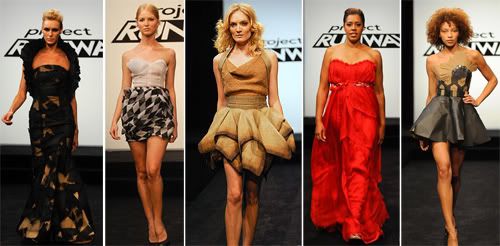 i was so sad she got eliminated, yes some of her outfits were questionable
(like her mother/daughter challenge)
but i thought she was so talented and was really surprised when she left.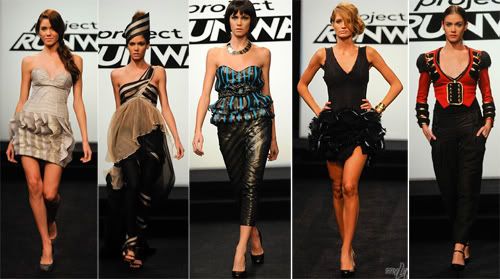 i feel like jay is consistent in his work and i really like his style.. i hope he beats mila ;)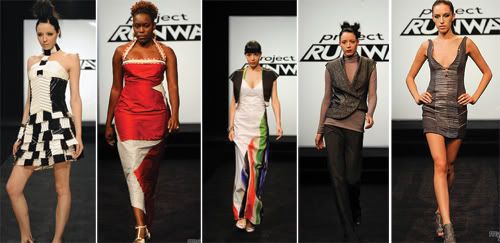 i don't understand the judging, looking at
the scorecard
, mila was bottom three - 3 weeks in a row. and she still has possibility to make it to fashion week.. i don't think there is anything special about her work!
i know the judges loved emilio's work (4 weeks in a row he was winner!) but i don't see why. i thought he'd be off on the week the designers designed their own fabric, but he won! i did like his latest
circus-inspired dress
though.
i also don't get what maya's deal was with leaving the show. she was so talented..it seemed like never winning a challenge got her down. actually, there is an
interesting interview
from maya about the whole thing, by tom & lorenzo.
okay, so i have to hear your opinions! nick totally called it, he said it'd be seth aaron, mila, and emilio. weird! he also had a dream he met anthony, haha. he is so funny. what did you think of last week's episode? agree/disgree? who did you want to see make it to fashion week? :)