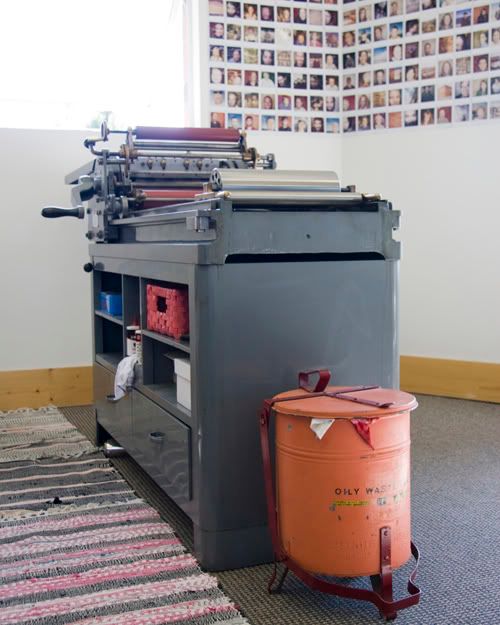 I found our beloved Vandercook no. 3 letterpress via
Don Black Linecasting
in Toronto. I highly recommend these guys. They've been around for a long time, and they know what they are talking about. The Vandercook's previous owner was a career pressman who's boss let him take the press home when it had become "obsolete". This pressman then used it to print church newsletters for the next several decades, until he sold it to Don Black, who fixed it up and then sold it to us in the summer of 2007.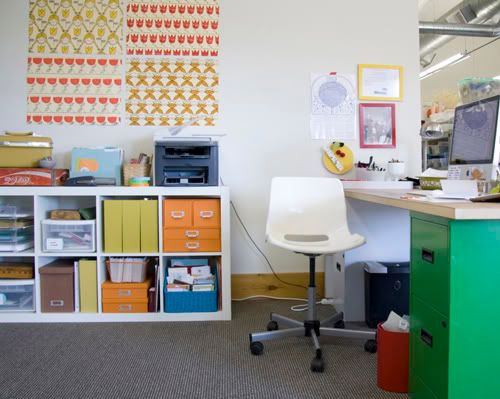 We moved the press into our townhouse's dining room on Sycamore Street in Columbus, Ohio. The living room became the office / shipping station, and the basement housed all of the inventory. It was a cozy operation, but a year and a half later, Kirk decided to join me full time in the business as well, and our little place was bursting at the seams. So, we packed everything up, and moved out west to Utah to be near our families. In fact, we moved in with my parents so that we could afford to rent out a separate studio and save up for a house. It's been incredible working in this airy, light filled space, and it's the perfect location for the
workshops
we've been teaching on occasion.
After 2 1/2 years in business, Kirk and I have printed countless cards, posters, invitations, etc...on our completely manually operated press. It's a real workhorse and we love it...but we'd also love to add a more efficient Heidelberg to the mix one of these days.