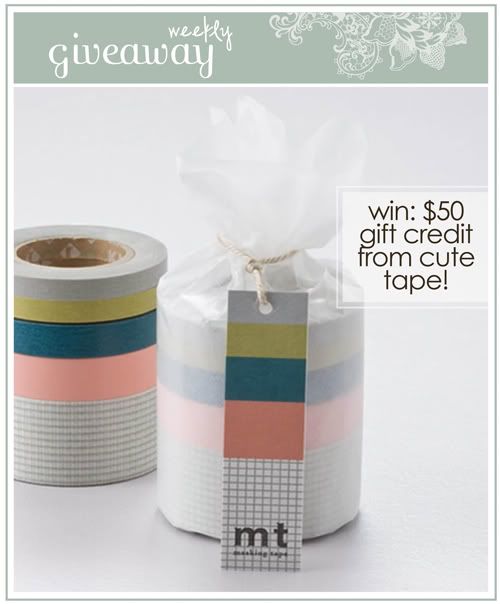 this week's giveaway is a
generous
$50 gift certificate to buy tape to your hearts content from
cute tape
(pronounced
koo-teh-tah-pee
) read all about glenda's shop
right here
! cute tape also carries lots of other cute stationery items from envelopes to rubber stamp sets.
win: $50 gift certificate
!

What inspires you from day to day? I would have to say that there might be different things that inspires me from day to day. One day, it can be just a simple color. Another, it can be a person. Overall though, I'm quiet a visual person and anything creative inspires me. Oh - danni's packaging post inspired me the other day =) hahaha
Any advice for small business owners or people aspiring to start their own shop one day? I'm probably not qualified to give out advice really. Things just happened without much thought and although it's been successful, I would not recommend that people do things without uch thoughts put in. If I think about it more though, I would say I can be one track mind sometimes. If I'm into something, I would research it until the end of google (pages). Another very important thing that I would recommend is to read this the following. I don't know him ersonally and I did message him to thank him one day for one line he mentioned that stayed with me and will stay with me forever. I'm also not going to tell you which part of it was important for me. I will just let you read it and find out for yourself: http://www.etsy.com/featured_seller.php?featured_user_id=5503280
Also, I have to say that starting your own business isn't easy. From the time it starts to the time it's going on. I think it's actually very hard work. These are random things I can think of:
1. Name - first thing is of course coming up with a name that will be useful and memorable. These days tough, you also have to come up with one that is available (domain!!).
2. Image - create an image for your brand/store. This includes logo, website and anything else that people will see. Spend time on it, spend money on it. Luckily, I only had to spend time on it =). I've always believed in first impression. If you don't value your shop image, why would people value your shop?
3. Sleepless - yes, get ready to have no sleep. I guess that would depend on how you run your business and your lifestyle (kids? no kids?). I think it's different for different types of businesses. I run a design business and there are easier things in it than retail. Retail is a LOT harder, but for me so far, it's a learning experience. Unless you have help, everything is on your own. I'm still not at the point I'm comfortable with letting someone else do it yet, so I'm finding that it takes a lot of time to...package and ship things! I'm up until 2am most nights and get up at 6:50am. The post office becomes the place you have to visit the most and it's not a fun place to be. really =P
Just remember that success will only come if you keep at it, failure will come when you give up on it.

receive 10% off your order
!
cute tape
has kindly offered a special exclusive discount for oh, hello friend readers. receive
10% off
your purchase, good till may 31st. simply enter code "
ohhellofriend10
" at checkout! also be sure to visit cute tape's
fun specials page
- free shipping over $75 and discounts if you order 10+ items!
( COMMENT TO WIN: )
with your favorite item from glenda's
shop
.
come back and comment with the link :)

if you twitter, please tag it with @ohhellofriend so i can track your tweet ;)
giveaway ends on monday, april 26th at 8am, pst
please check back next week to see if you are the lucky winner!
---
the winner from
last week
is #163 - congrats to lovely little nest!
please email me with your mailing info :)