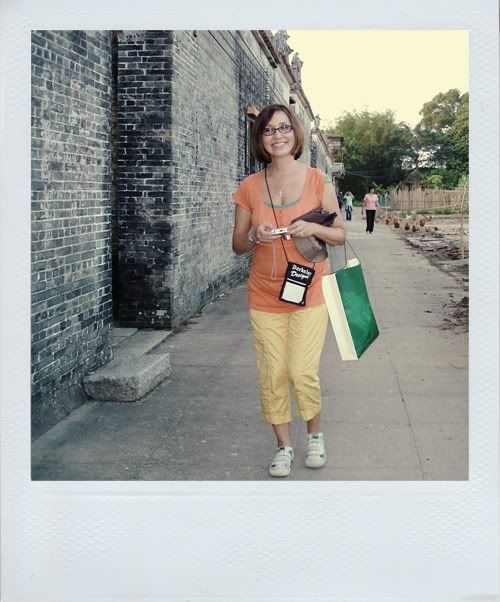 2008: taken in china at the village where her parents were from.
last week we got news that my mom has cancer. the news was deeply devastating. the cancer is in her uterus. she had surgery on saturday, we were at the hospital with her from 4am till 6pm. she had full hysterectomy where they removed her uterus. we prayed and prayed for a safe surgery, which i was most anxious about. the surgery went well and our prayers were answered. unfortunately after the surgery, the doctor said the cancer looked deeper than what they thought, but we must wait for the tests this coming friday to reveal what stage of cancer it is. we don't want it deeper in the lymph nodes. of course we hoped they could remove all the cancer, and she wouldn't have to go through chemo. but it looks like she will have to. and so we enter into a new journey of life together.
3 random facts about my mom: she has great faith, she always looks for the closest parking spot, and she loves the color yellow. she will always wear something yellow and her friends call her anna banana. she is doing well, i guess as well as she can be doing. but she is so so sweet and fragile to us. it's hard to watch her get poked with needles, and see her in pain. she has said at times she's at peace, and other times she cries. she is so strong, and i think she is trying to be strong for us but i just want to be strong for her. she is a real example of living faith. she had many friends visit her in the hospital, some even wore yellow for her ;)
i know God brings us through trials to draw us closer to Him. the Word has never been so real to me before. friends and relatives sent encouraging verses, and the tears just kept coming as i was reading about comfort in the psalms. His love reaches to the heavens, and his faithfulness to the skies. my faith is so weak. how can i not trust that He will take care of my mom?
to be honest, i'm scared. i can't even begin to think about the thought of loosing my mom. our faith is truly being tested and i am challenged to surrender everything and place my hope in Him. i read some articles online about uterus cancer (which the doctors say not to do, read things online) and it says it is a quite common cancer and chances of survival are good. while i want to remain hopeful, i also do not want to be underestimating of this. i had a very dear friend/roommate pass away a few years ago from liver cancer. i had no idea how bad it was, and assumed she'd start chemo right away and get better. i was naive. she passed a week later and i still think of her to this day. you can't forget something so tragic.
blogging has become such a big part of my life and i am beyond blessed with supportive readers and friends, so i wanted to let you know what was going on. last week was very fortunate because i already had the letterpress posts prescheduled... when you're hit with such a big life reality, nothing else seems to matter. i also had some guest posts scheduled for this week because i was going to be selling in irvine, and it really has worked out now that i will be spending time with my mom this week, leading up to mother's day. so guest posts will be prescheduled and go up in the next couple days.
i am not sure when i will be back blogging but if anyone is interested in submitting a guest post or two, i would deeply and greatly appreciate it. anything would be lovely: a tutorial/diy, inspiration, tours of your house/work space - whatever you think would be appropriate while keeping in style of this blog. the images on this blog are posted at 500 pixels wide, if you'd like to submit a feature please email me with text and images. images pre-linked on your flickr/photobucket would be even more helpful. i dont know that i'll be able to answer any questions but if i am able to post the feature, i will do so in the coming days when i have time.
anyway, with all that said, does anyone know someone who has had this type of cancer? any stories you can share or things that can be expected in the weeks and months to come? i have no experience with cancer, other than the story i shared above. i want to be a support to my mom in any way i can.
thanks for your support friends. this was a long post, but if you got through everything - thank you for taking the time to read. if you think of it, please lift up a prayer for my sweet mom for the results this friday: i would be forever grateful.
ps: i updated this post a bit this morning and already want to thank you for all the comments and emails. your support is overwhelming. your words and stories of loss and survival are all so encouraging. we will definitely stay positive through this, i do believe she can survive. thank you friends.