today we have a wonderful studio tour from Alli of
hooray design
! i love getting a peek into the world of a design/craft blogger. alli also runs a shop
here
(which is reopening soon!) hope you enjoy the tour she has been so kind to submit today, also stop by her
twitter
and
facebook
! thank you for sharing your sweet work space with us alli!
. . . . . . . . . . . . . . . . . . . . . . . . . . . . . . . . . . . . . . . .
My Studio Space
Hello! I'm Alli, a designer from Ann Arbor + the blogger from Hooray. I'm thrilled to be here today, and thought I'd share with you a glimpse of my studio, a space where I'm most inspired + creative. Over the winter I started feeling very blah about the space (never a good thing!), so I've recently finished giving it a little (read: cheap, simple) makeover, including a few quick DIY's. Below I've shared some of the process + results!
My main work space: 2 inexpensive Ikea tables, placed side by side to make more of an impact (I have a 3rd one across the room for my computer as well). They're easy to clean and to move around the room as necessary. Twine is strung across the wall so I can display my stash of magazine tears.
Chair DIY: Last fall we gave this chair (thrifted for $10) a face lift using fabric I had on hand. Above you can see my husband simply stapling the fabric over top the old vinyl covering on the seat, and then voila! Now it's a beautiful chair, and having this standout piece allows me to keep the rest of the furnishings simple.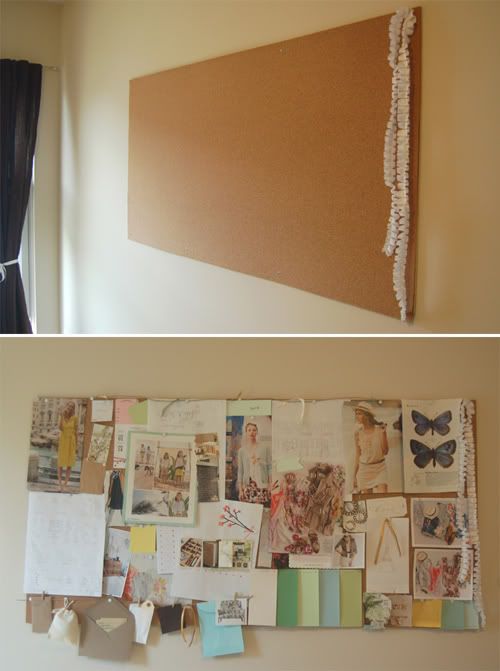 Project/inspiration board DIY: I'm very visually inspired, so I wanted one wall completely dedicated to a giant inspiration board to use for projects. I glued a roll of cork to a 2' x 3' plyboard that was 1/4" inch thick, then hubby screwed it onto the wall (as seen in first photo). I opted not to place anything else in front of the wall so that I can easily access it and change pinups, fabric swatches, etc.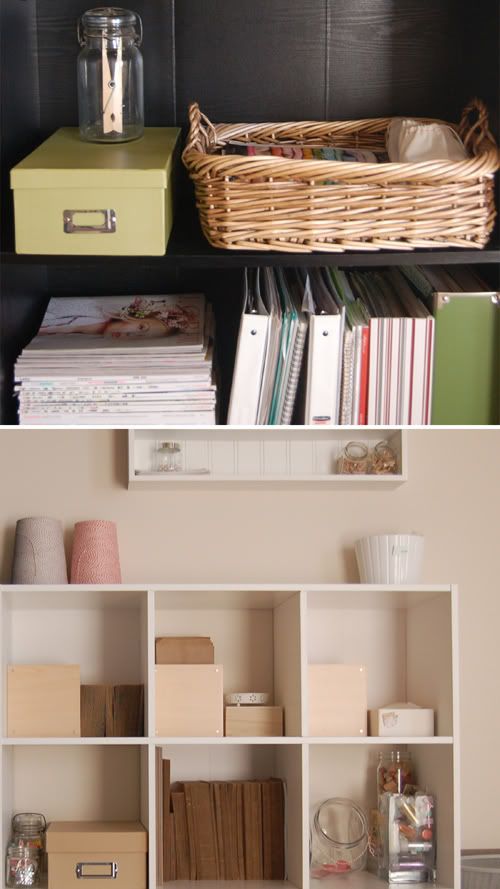 Two open storage units: the first is a tall black bookshelf that we've always had, so I tried to make it more exciting by putting my prettiest storage boxes + baskets on its shelves, openly storing stacks of magazine + binders on it as well. The second is a white cubby that holds lots of supplies and has utility bins (not pictured) along the bottom to hide various objects.
My favorite spot: as evident by these photos, my studio doesn't get much natural light, unfortunately. So, this spot next to the window (to the right) is where I spend the most time working. Overall, my studio is pretty basic, but I hope a few of these ideas will inspire some of you to make use of what you already have, and try out a few projects to personalize your space + make it more inspiring. Thanks for having me!