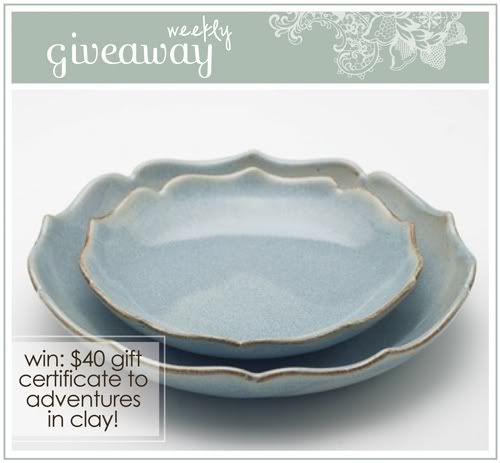 adventures in clay
was one of those immediate favorite shops i marked on etsy. marianne's ceramic style is very unique and distinct: i love her use of shape like in her lotus and lace bowls. her
etsy shop
is full of so many lovely bowls, jars, and vases. for this week's giveaway, adventures' in clay is offering a $40 gift certificate to use on anything in her
store
-- be sure to head over and check it out!
win: $40 gift certificate to

Hello, please tell us a little about yourself + your beautiful shop: The short story is: I grew up in Germany, fell in love with an American exchange student in High School, met him again after college, got married, and moved to Northern California. And here we are: with two almost grown-up kids, a big old house with a large somewhat wild garden, and a studio out in back. It's a lot of fun most of the time. I found out about etsy through a friend, and decided to give it a try. That was a year ago, and I haven't looked back since. I feel a real connection with my customers, and am so happy that my pottery finds a home all over the world.
How did you get started making your ceramics? I have always loved clay – soft and completely open to my ideas. Studying at a College of Arts and Crafts in Germany I followed a group of friends into Industrial Design, but got disenchanted, and felt the pull into the Ceramics Department in the basement where the big kilns were! I was happy to learn throwing, hand building, glaze chemistry and kiln firing – the craft and the art of ceramics. My dream was to someday work in my own studio.
What inspires you day to day? It's really when my inner world connects with the world around me that my creativity gets nurtured and sparked. Looking at some pointy flower petals in my garden brings Moroccan architecture and door openings to mind, which I then use to design a candlelight. I try to create graceful, elegant lines.
My studio looks out onto an olive tree and some old metal sheds, a somewhat Mediterranean impression. Sitting at my wheel or carving a piece I can let my mind drift, and catch floating ideas – it's very peaceful and fun. Next to the rusty sheds we planted artichokes. We don't always remember to pick them, so they open up and bloom with their lovely purple heads. That sight led me to a bowl with artichoke-inspired leaves all over.
Any advice for aspiring small business owners? Three things come to mind:
(1) Get organized in your business – you want to save time day-to-day, and be prepared for increased traffic like during the holiday season. So set up your work area, organize your files, and have all your packaging supplies ready. It helps me to be more relaxed.
(2) Great customer service – I try to answer convos promptly, package my pottery as if I'm sending it to a friend, and ship it quickly. Ask yourself what you appreciate as a customer.
(3) Shop policies may not be exciting, but it's really important to have them in place. They are like your boundaries ;) Research shops with similar items, and learn from them.
( COMMENT TO WIN )
with your favorite item from the
shop
come back & comment with the link! if you twitter, please
tag it with @ohhellofriend so i can track your tweet!
( +1 MORE EXTRA ENTRY )
become a twitter / blogger follower or a facebook fan,
leave a comment letting me know which site you follow for an extra entry!
(note: please only comment once for what site you are a follower of)
giveaway ends on monday, june 21st at 8am, pst
please check back next week to see if you are the lucky winner!