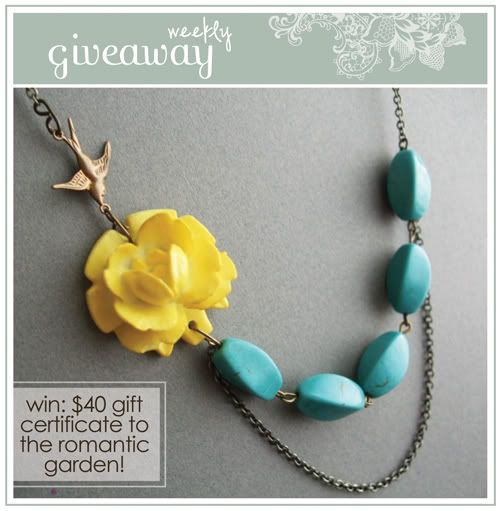 i'm very excited to bring you this lovely giveaway from
the romantic garden
- the most lovely necklaces made by rachelle. this is a very special chance to win a $40 gift certificate to anything you choose from her store! the minute i came across this shop, i fell in love with all her pieces. the use of mixed beads and flowers, and her colors are all so fabulous. i'd like to own one of each piece ;) be sure to stop by rachelle's
blog
as well!
win: $40 gift certificate to

Hello, please tell us a little about yourself!
I don't think of myself as an artist rather I see myself as a lover of nature and color and try to mix the two by enhancing natural beauty we girly girls already possess.
How did you get started making your lovely jewelry?
I started making Jewelry 2 yrs ago cause frankly I wanted something unique that no store has and just got carried away:)
What inspires you day to day?
My freedom of mind and creativity inspires me everyday, the ability to make someone else happy with a creation I made truly makes my day.
A
ny advice for aspiring small business owners?
Love what you do!! Take great pictures and have wonderful service along with this, unique and quality products.
( COMMENT TO WIN )
with your favorite item from the
shop
.
come back & comment with the link! if you twitter, please
tag it with @ohhellofriend so i can track your tweet!
( ONE MORE EXTRA ENTRY )
if you're a twitter or blogger follower or a facebook fan,
leave a comment letting me know which one for an extra entry!
that is a total of 3 potential entries you have to win :)
giveaway ends on monday, june 14th at 8am, pst
please check back next week to see if you are the lucky winner!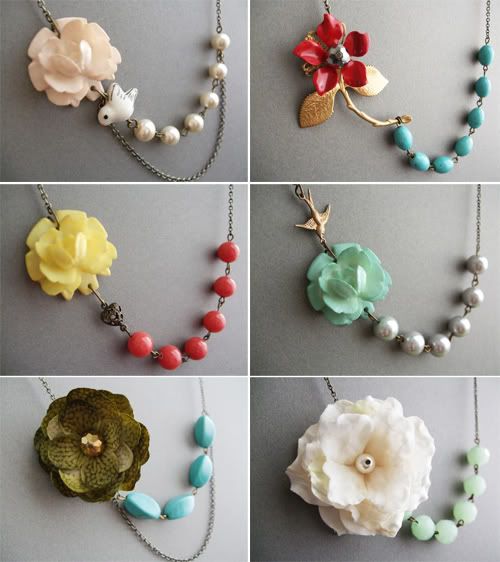 ---
congrats to the winner of last week's QUOTE bag giveaway, #74 - joolee!
please contact me to claim your prize :)