I met
Kelly
from
Design Crush
at Alt Summit back in January - she was a peach. Her blog is full of wonderful inspiration and she's here today sharing some pretty rings, enjoy!
. . . . . . . . . . . . . . . . . . . . . . . . . . . . . . . . . . . . . . . .
Before anything else, I want to send out a huge congratulations and best wishes to Danni and Nick on their marriage! (If I had virtual rice you would be positively buried in it, my friend!) Danni has been so sweet to share everything with us up to this point through her blog – the proposal, the engagement photos, the wedding site. So when she asked me to guest post I got to thinking about the next step, namely wedding bands. But not just any wedding bands. The kind where people are sure to stop and stare and ask you to explain them.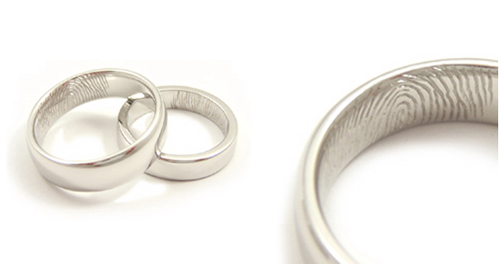 Fingerprint Wedding Bands from
Andrew English
. I doubt a piece of jewelry could get much more personal or meaningful because the fingerprints are the two of yours, hand-engraved on the inside of each band to the very last detail. Now a little piece of your love can be with you at all times.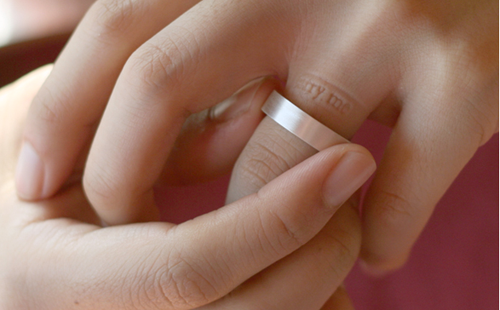 Inner Message by
Jungyun Yoon
. When worn this ring leaves a slight imprint of the message inside imprinted in your skin. I like that there's a reminder even after you remove it and think it would be unbearably sweet to have special messages to one another become a part of you for a bit.
ONE by
Studio Bloomm
. You fit together and so do your rings. Matching bands don't get much better than this.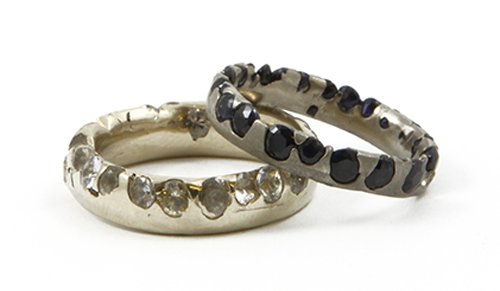 Crystal series by
Polly Wales
. These are definitely for a special couple. The kind who are spur of the moment, fly by the seat of your pants types without a care in the world. They don't overanalyze and they aren't perfectionists. The only thing they can't live without is one another.