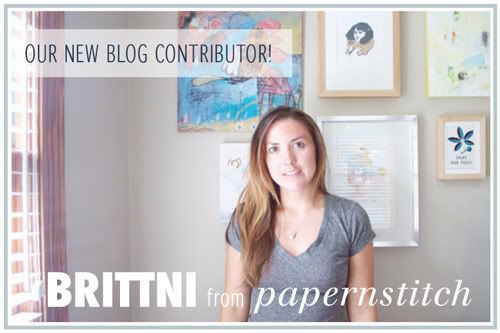 Hi everyone! I'm very excited to announce that we have our very first regular blog contributor, I'm sure many of you know her -- Brittni from
papernstitch
! She's going to be here featuring diy projects and weekly 'diy with Brittni' columns that will post every Friday and I'm so excited to have her. Here is some more info for you to get to know our new friend!
Brittni Mehlhoff is the editor of design and style blog,
papernstitch
, and is also the owner and creator of a
handmade exhibition site
by the same name. When not working on papernstitch, Brittni enjoys dreaming up new diy projects and tutorials in her cozy, brick bungalow along with husband Jeff and two adorable pets.
More facts... My background in promoting artists and makers actually started before I began blogging... I started an online magazine in early 2007 called CREATEjacksonville, which featured local artists and makers (interviews, reviews, etc). And worked on it (alone) day in and day out. Eventually, the workload from the mag took its toll and when I decided to discontinue the mag in 2008, I began blogging. Shortly thereafter, I started the papernstitch exhibition site, and I've been working on that for the last two years.
Interesting/ Random facts: I am 26. Total animal lover. Married with a dog and a cat. Obsessed with rearranging my house, creating diy projects, and desserts of any kind.
ps: if you'd like to be considered for a regular blog contributor on oh, hello friend: email me!