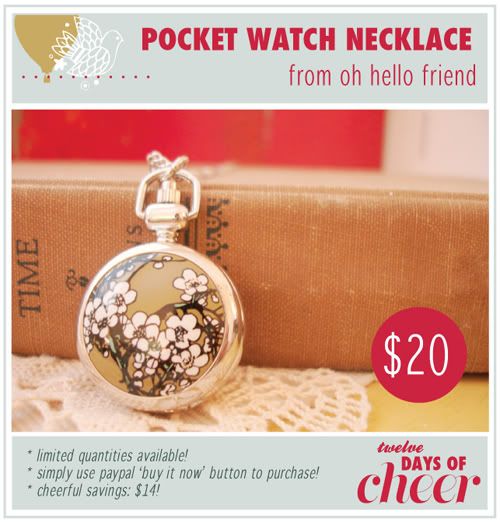 Shop: oh, hello friend
Retail Price: $30 (+ $3 s&h)
GOOD CHEER PRICE: $20 with free s&h!
Today's good cheer is for one of my signature pocket watches. This silver pocket watch has a pretty lime green cherry blossom design on the front and I will send an extra battery along as well! I love the pocket watches because they are cute & functional. (Please note the pocket watch will arrive as you see in the image above, not like the etsy listing with the extra charms) Pocket watch will be shipped first thing tomorrow! Happy Sunday friends, have a lovely day.

- 15 watches available
- Limit 1 per customer
- Open to everyone in any country! :)
- Click the 'buy now' button to purchase this deal.
Use your paypal account to pay and enter your shipping
information. Then your good cheer will be on it's way!
- If the 'buy now' button is no longer working,
it means the item is sold out.
- If you bought one, pleae leave a comment so we
can track how many are left :)