So over at my sweet friend Jen's blog,
i art u
- she blogged about a pretty sweet
Giveaway
from Chronicle Books. I love
Chronicle Books
! The contest is super simple.
Simply post a list of Chronicle Books you'd love to own, valued up to $500. If you win, 1 lucky blog reader who posted a comment on the post will also win your entire list of books. So hopefully we have similar taste in books and you like my list - if you do, comment! ;) You can also comment on
Jen's list
too for another chance to win, if Jen wins!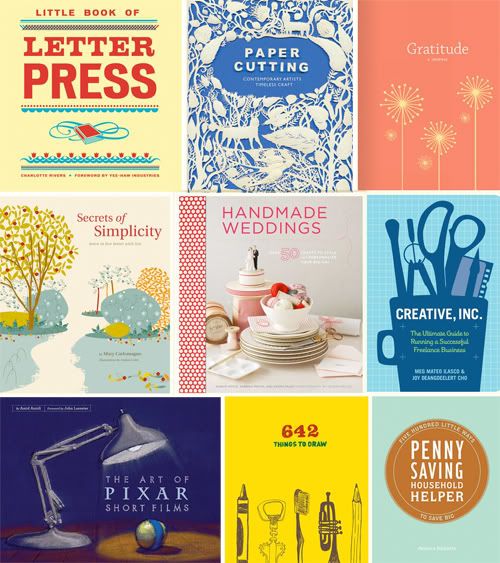 Okay, here's my list!
(1)
Little Book of Letterpress
By Charlotte Rivers
(2)
Paper Cutting
by Laura Heyenga with Preface by Rob Ryan
(3)
Gratitude
A Journal
(4)
Secrets of Simplicity
By Mary Carlomagno
(5)
Handmade Weddings
By Sabrina Moyle, Eunice Moyle, and Shana Faust
(6)
Creative, Inc
By Meg Mateo Ilasco and Joy Deangdeelert Cho
(7)
The Art of Pixar Short Films
By Amid Amidi
*this would be for Nicholas!
(8)
642 Things to Draw
*this would be for my friend, who is a great illustrator!
(9)
Penny Saving Household Helper
By Rebecca DiLiberto
(10)
Print & Pattern
By Bowie Style
(11)
Business Cards 2
By Michael Dorrian and Liz Farrelly
(12)
Old School Letter Set
By Paper+Cup Designs
(13)
The Art of Vintage DC Comics
: 75th Anniversary By DC Comics
*this would be for my big bro
(14)
Whip Up Mini Quilts
By Kathreen Ricketson
*this would be for my aunt
(15)
Open Studios
with Lotta Jansdotter By Lotta Jansdotter
(16)
Paper + Craft
By Minhee and Truman Cho
(17)
This Is for You
By Rob Ryan
(18)
Mini Goals Notepad
by Mary Kate McDevitt