Today we have a studio tour from Benign Objects. Rachel has a great sense of design, I love the things she comes up with in her
shop
and her
blog
is full of great inspiration posts. Check Rachel out on
Facebook
+
Twitter
too!
---
Hello friends, Rachel, paper lover, designer and proprietress of Benign Objects here again to share my work space with you. I work from my home outside of Minneapolis.
My main workspace is inside a fairly decent-sized closet. The old-school grass wallpaper was already here when I moved in, so that worked out nicely. The desk is a vintage find from the sixties and, along with the matching cabinet, are the two heaviest pieces of furniture I own, but they're big and spacious and are one of the few good things I got out my last full-time office job. My trusty HP printer is old as all get out but still works wonderfully for quick things and samples. I have two other printers that handle more heavy-duty jobs and I send really high-end stuff out to the pros.
My Macbook Pro is pretty much my life. What you can't see here are the ridiculous amount of cords and USB cables plugged into it: hubs, printers, two back-up drives, digital camera cables, etc. In the future, I look forward to getting a desktop mac with a giant screen that will glaze my eyes over, but for right now, my Pro has done just fine and portability is a must for me when I work on-location in the cities.
To the left of my desk I've pinned a few completed projects, some favorite photos, design inspiration and my favorite vintage postcards which I use to make gift tags.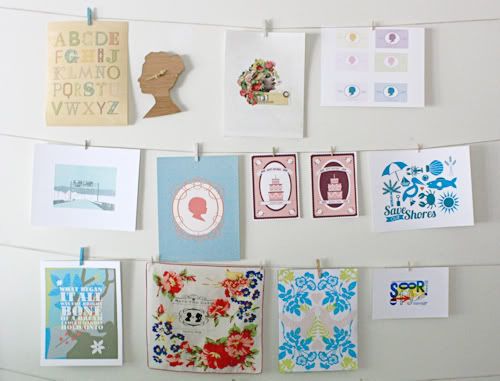 In addition, I also pin projects that are in the works to a white-walled background that I string with twine and clothespins. Since I work alone, I like to put works in progress up on the board and come back to them a day or so later. Usually if I'm deciding on color or design options, the answer will immediately jump out at me after I've let everything sit for a day and sleep on it (for instance, check out the two pink birthday card with cakes. Any idea which one I settled on?). The silhouette clock is a working prototype that will be be put in the shop next week.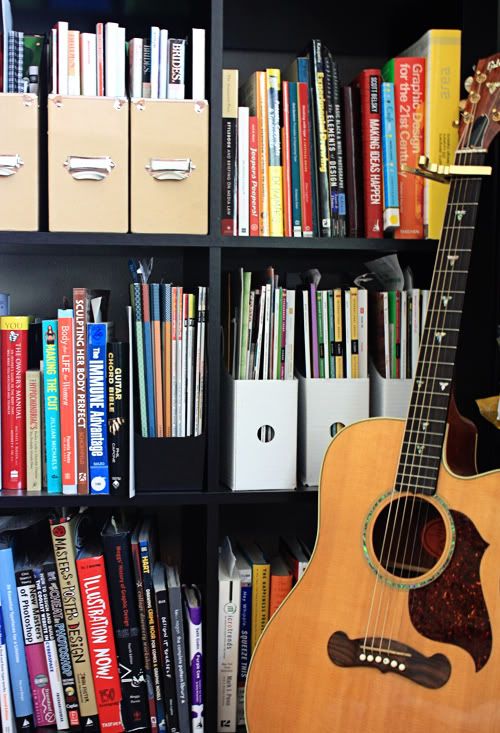 I have lots of book shelves. I'm an avid reader of everything from health, diet and fitness-related stuff to design/illustration books and magazines. I've had the Gibson guitar for almost 10 years and it's my baby. It needs a tune-up and to be restrung, though. I took lessons a long time ago but am now pretty much limited to power chords. I'm no singer, but if no one's around, I like to sing House of the Rising Sun like I've got the pipes of SuBo. So far no one has called the fire department and reported a wailing, treed cat.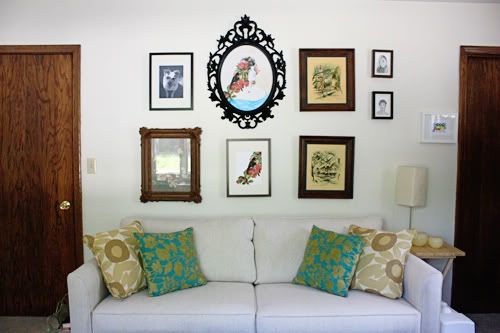 One of my favorite things about the room is my new oatmeal-colored couch. I love the pop of the pillows against the nubby texture of the couch. It's also a queen sleeper and surprisingly comfortable. If I'm working super late and don't want to disturb my husband, I just sleep on the pull out. The art above my couch is a mishmash of found pieces, a photo of my dog and some of my paintings, pencil drawings and collage work.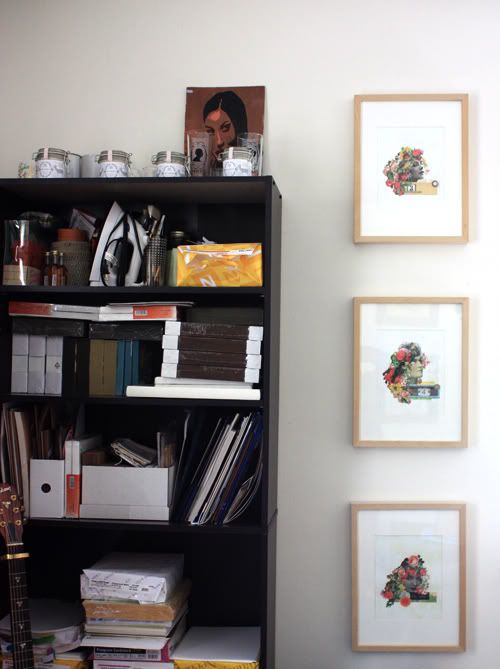 The other bookshelf is the supply shelf and contains lots of paper, frames and other odds and ends. At the top are the holiday freebies I did last year and an old self-portrait. At the right are some of my favorite collage pieces based on the three Fates.
I can't live without plants, though plants typically can't live with me. I've managed to keep these alive, and I'm proud of that. Proud enough to take a photo of them for my tour.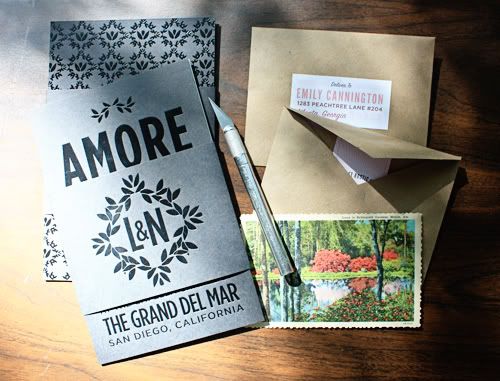 And finally, a close-up of the work table that came with my desk. It's huge and I do most of my cutting and measuring on it. The black invitation on the left is a recent project for a bride in
Southern California. We used tone-on-tone black foil stamping on super thick black paper to create a very luxe invitation. To the right are some bachelorette getaway invites I just finished. You can see more of them here.
I love working from home; it's really convenient and I love making my own hours. One thing I really miss about working at an agency or in a group setting though is being around other creative types and bouncing ideas off of them. To some extent, blogging, tweeting and facebook help alleviate some of that creative loneliness, but eventually I'd love to be in a shared space with other creative types.
Thanks to Danni for featuring my first ever studio tour. Please come visit me any time at
my blog
and see what I'm up to.