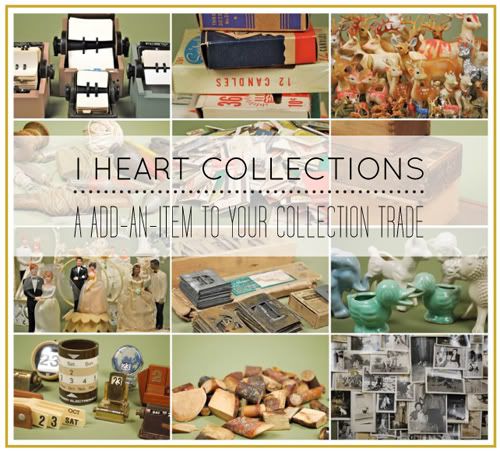 image credit: somethings hiding in here
found via: pinkshirts and carwrecks
UPDATE 3/6:
sign-ups are now
closed
& partners have been assigned!
---
So I shared some instant collections yesterday and asked you what sort of things you collect. After seeing Lisa Congdon's
Collection A Day
book, I got even more inspired about collections and thought it'd be fun to have a little collection swap! What do you think? Read on for details!
Details: You will be paired with 1 swap partner and each of you will share what sort of things you collect. Then you'll buy an item from your partner's list and send it to them! So everyone will have added a new item to their collection by the end of this trade!

Swap Dollar Amount: $15-$20
Dates: Sign ups will close on Saturday, March 5th or if we reach 100 people, whichever comes first. Partners will be issued by March 8th and please have your package sent by March 31st.

Overseas: We will allow friends in international countries to participate, but please note if you are interested in sending overseas or not.

Note: Please do not sign up and give your partner an expensive list of things you collect.. like rare coins or something. If your collection contains items that are most likely easy to find around etsy or ebay or online, like scissors or staplers or something, please join!

Sign up form:
If you're interested in participating, leave a comment
with the following information:


Name:
Website:
Email Address:
Location:
What sort of things do you collect?
Are you interested in sending overseas?
I think that's everything! Thanks friends, can't wait to see what
everyone ends up with! Here are some more lovely collections:
perfect bound
Jackie Rueda
uppercasegallery