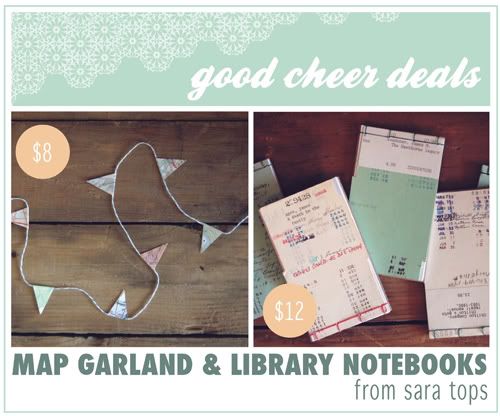 Today's Good Cheer is from the lovely shop,

saratops

! She's offering some top items from her shop - recycled map garlands or a set of her library card notebooks. I love maps and old library cards and I love that she recycles them and turns them into cool things ;) Free shipping for US residents, $1 for international friends.


Item: Recycled Map Garland
Retail Price: $12
Good Cheer Price: $8 w/free shipping!

Item: Library Card Notebooks (Set of 2)
Retail Price: $17
Good Cheer Price: $12 w/free shipping!





- 15 garlands and 15 library card notebooks available.
Limit 1 per customer, please!

- This deal is open to all countries. Shipping is free to
USA residents, all other countries the cost is only $1!

- This deal is open all week long, or until items are sold out.

- Please be sure to visit saratops and support!

- Click the 'buy now' button to purchase this deal. Use your paypal
account to make payment directly to seller and enter your shipping
information. Then your good cheer will be on it's way!

- If the 'buy now' button is no longer working, it means the item is sold out.