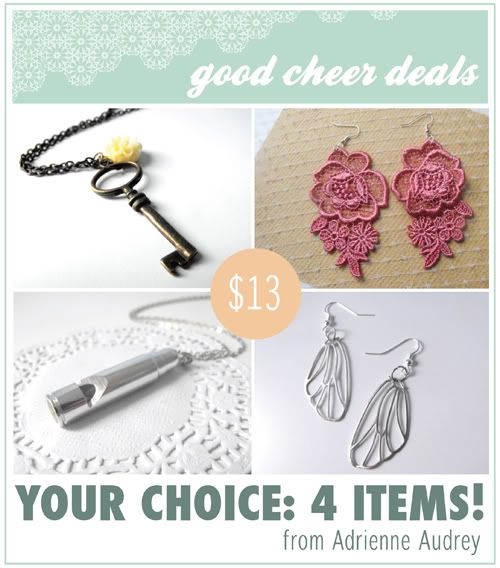 We have lots of choices for Good Cheer Deals this week! Today's featured deal shop is

Adrienne Audrey

, full of fabulous jewelry! You have your choice of 4 items:


Item #1: Pink Lace Earrings
Item #2: Silver Whistle Necklace
Item #3: Brass Key Necklace
Item #4: Silver Butterfly Earrings
Retail Price: $20
Good Cheer Price: $13 w/free shipping!






- only 15-25 items available!



- Please note ship times: Pink Lace Earrings & Silver Whistle Necklace will ship immediately / Brass Key Necklace & Butterfly earrings will ship in a week.

- This deal is open to all countries! Shipping within the US is free and International shipping is only $1!



- Please be sure to visit Adrienne Audrey and support!

- Click the 'buy now' button to purchase this deal. Use your paypal
account to make payment directly to seller and enter your shipping
information. Then your good cheer will be on it's way!

- If the 'buy now' button is no longer working, it means the item is sold out.