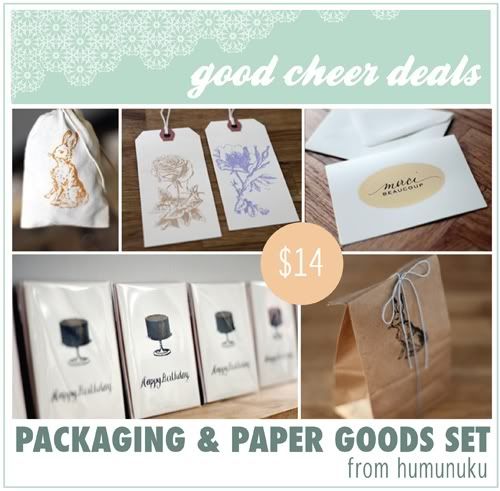 Today's deal is from
humunuku
-- you can get a whole packaging set filled with some of her best sellers. Tags, bags, & cards! What more can you ask for? Read on for more details!
You'll receive the following items in your packaging gift pack:
1 printed cloth bag, 1 gold merci card, 1 happy birthday card,
1 set of 10 bunny gift bags, and 2 flower tags
Retail Price:
$24
Good Cheer Price:
$14 w/free shipping
Shipping is FREE for US residents and $4 for all other countries.


- 18 packs available.

- This deal is open to all countries.
Free shipping for domestic & $4 for international.
Please note that shipping cost will be added in at checkout.
- This deal is open all week long, or until items are sold out.
- Please be sure to visit
humunuku
and support!
- Click the 'buy now' button to purchase this deal. Use your paypal
account to make payment directly to seller and enter your shipping
information. Then your good cheer will be on it's way!
- If the 'buy now' button is no longer working, it means the item is sold out.