Aw, I plugged my phone in and was going through all the photos on my phone, which were pretty random. It was fun though, they're like little snapshots of life.. What I was doing, where I was around that time. I have a terrible memory too so it's nice to have random photos from here and there. Thought I'd share some ;)
1. I can't reach the overhead bins on planes, so I stuffed my bag under my seat. It didn't really fit that well.
3. Nick's hair is so long, we put it in a mini pony tail!
4. Saw someone with this smashed iPhone, but it still worked! Legit.
5. My friend had a candle and burned her macbook, and it still works!
photos #4+5 just show that apple products are the best! ;)
6. Eating lunch, a little bird came and joined me.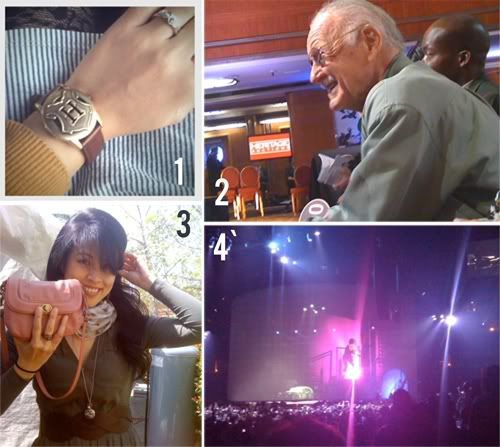 1. My harry potter watch, which I've lost and I'm so sad!
2. Went to some random auction tv show taping and saw
Stan Lee
!
3.
Katherine
is so super sweet, she was wearing 6-7 things
that she bought from me at UCI.
4. Saw lady gaga in concert. It was quite strange.
What sort of photo-memories do you have in your phone?
So this weekend is a very special weekend because it is our last weekend of shows! I sold at about 10 shows during the month of May, it was intense and crazy to say the least. Do you have any memorial day weekend plans?
See you on Monday! xo.