Hello! For today's Friday post, I thought I'd photograph some recent finds from my thrift store hunts. I used to shop at thrift stores all the time, before I realized there was a difference between a thrift store and an antique store. Lately though, the thrift around here has been really bad. I haven't been able to find hardly anything at thrift stores! I recently went to a couple around here and hit the jackpot ;)
I got the wire desk basket for .58 cents and the small little drawer for $1.99. I have that exact mini drawer from the antique market, but I $13 :/ Oh well, now I have 2! I found all those brass items from another thrift store for around $2-$3. I love the horse head clip. Okay, I didn't find that at a thrift store - but I still thought it was a good find so I included it. The little chess set is cool because it says "made in france" at the bottom. Got the little camera for $1 buck.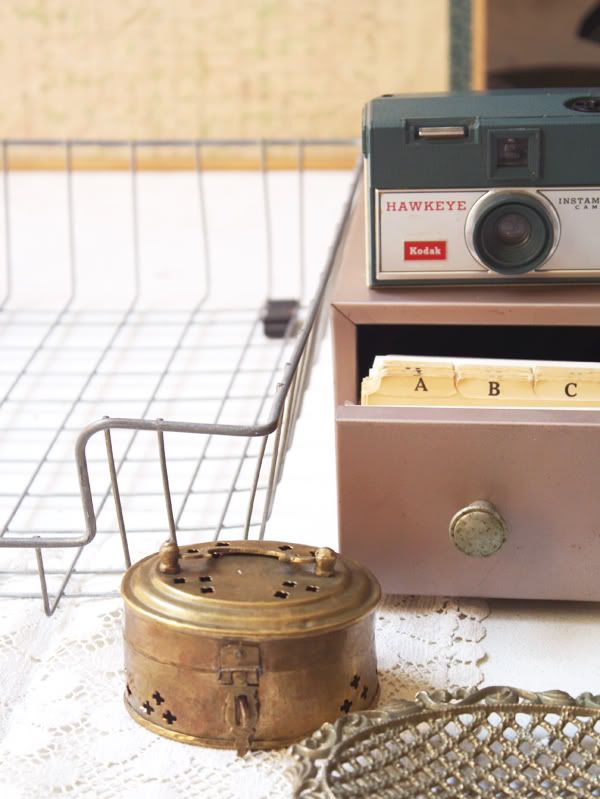 So I guess I still believe in thrift stores... if you search hard enough, you'll find some treasures amongst all the junk ;) We're in Portland for the weekend! I'm going to hit up some sales tomorrow, I'm really excited. Hope you have a sweeeeet weekend, friends!