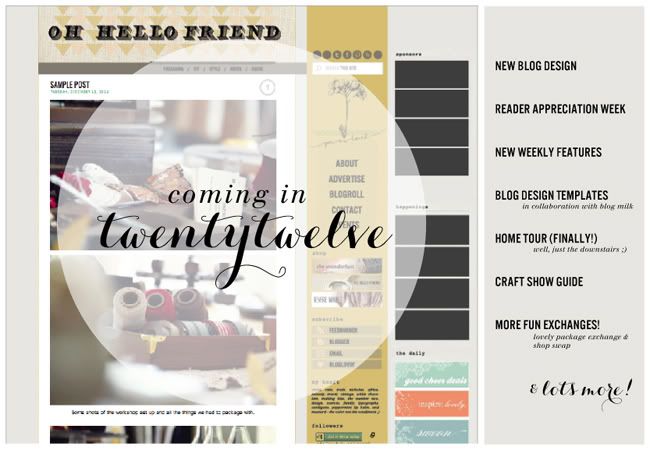 Hi friends! Not much of a post today, sorry! Just trying to get back into the swing of things. Have so many things to photograph, so much to research (I'm doing a wholesale show next month!) Nick went back to work today and things are slowly getting back to routine. I don't know how I feel about routine. I like it. But it also is so easy to fall into the same old thing and being unproductive, you know what I mean?
Well anyway, I wanted to give you a little preview of the things to come in 2012. I finished a brand new blog design and
Blog Milk
is currently coding it and making it work, I'm so excited! We're also collaborating on some blog designs that will be available for purchase designed by yours truly.
Reader appreciation week! I had a 'customer appreciation week' a couple years ago, but I think a reader appreciation week is much better. There will be giveaways, downloads, deals, and all sorts of fun things. Nick and I have been trying to think of other fun features for this, so if you have any ideas of how we can appreciate YOU, the reader, please let me know.
New weekly features. Still figuring this out but we're doing some major editing of columns. Keeping some. Taking some away. Which ones do you like? Which ones would you not miss? I'd love & appreciate your input!
Also to come: package exchanges, a home tour (just the downstairs, upstairs is still a mess!) craft show guide, and lots more. Which reminds me, if you participated in
the lovely package exchange
, can you leave a follow up link here if you blogged about it? I'd love to do a follow up post.
Whew, long announcement.
Thanks for all your input, Happy 3rd day of the new year :)