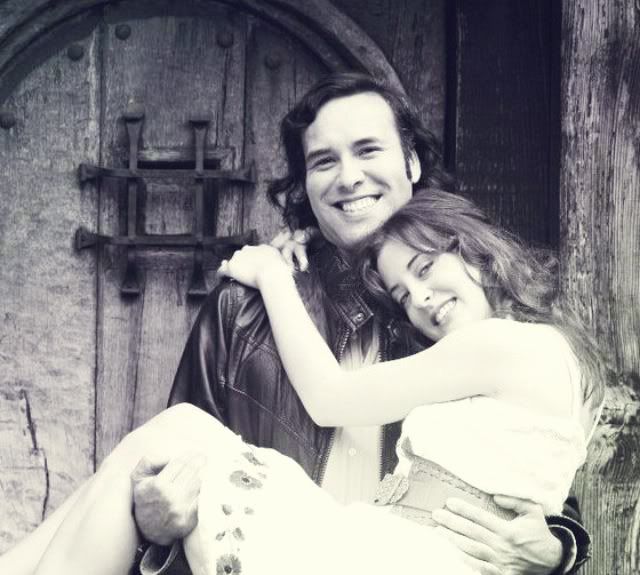 I know this blog is typically about pretty things and crafts and inspiration. But I was
truly inspired
by someone in a huge way this week. and I am really compelled to share with you.
Some of you may have remembered I mentioned my friend Ramon. We met Ramon at Rock Harbor in Costa Mesa back in 2010. We met with a weekly gathering of friends for several months. We would study the bible together, pray and laugh together and encourage each other. Eventually though all our schedules got crazy and our little group stopped meeting. But the time we spent together was pretty great.
Less than 4 months ago, on the weekend of December 10th, Ramon and Allison were told that what doctors originally brushed off as a sinus infection, was actually a tumor in Ramon's sinus cavity that spread to his eye and brain. They took a biopsy of the tumor and determined it was cancerous. on December 29th, they found out his cancer was stage 4 and had spread to his liver, spine, and hip. The doctors decided to start chemo immediately. On January 11th, they started the first round and then another round on February 1st. on February 25th, their oncologist informed them that the chemo was ineffective and radiation would be more harmful than good. Ramon was sent home.
We were able to visit Ramon this past Wednesday with a couple other friends. I wasn't sure what to expect but I was anxious about visiting. It wasn't like going over to sit and chat over tea, you know? We prayed beforehand and were reminded this was not about us. We were going to show Ramon support and tell him that we love him. I did not realize or even think about how the tumor would affect his outer appearance but as we walked into his room, I didn't recognize Ramon. We sat at his bedside and held his hand and let him talk. We joked and laughed with him about the times we shared together. Ramon asked us how we were doing and what was new. Who does that??! He has only weeks left to live and he still asked us how we were. Ramon spoke of Jesus and how at the beginning of all of this, he knew he wasn't going to be okay. Jesus was calling him home and preparing his heart. Even though he didn't look the same, Ramon was still the same inside. I didn't see death in that room, but hope. We saw courage in Ramon. and joy. and peace. Most of all, Ramon showed us Jesus that day.
I sometimes wonder why people are brought into our lives, if only for a moment. We only knew Ramon for a small time of our life while we were engaged. But his story will always remain with us. We actually found out my mom had cancer in 2010. At one of our bible studies, we asked for prayer. We asked to pray that it would be only stage 1 or 2, and Ramon said, "forget that, I'm just going to pray for a complete healing and that there would be no cancer at all!" That is Ramon.
As believers of Jesus, we are not called to a life of sunshine and unicorns and rainbows. We don't believe because we are promised a wonderful and easy life. We don't do it for the comfort it brings. Sometimes I've had people say to me, "well those beliefs work for you. sure. you have faith and something to find comfort in. it works for you." Dearest friends. It is so much more than something that just works for me or that I find comfort in. It is the air I live and breathe. It is in my husband, who loves me with such abandonment. It is in creation - in the ocean, and sunsets and sunrises, and the sun & stars and the whole galaxy (which is pretty big!) It's in my mom who was healed of cancer. In Ramon's wife Allison, only being married for 9 months, still acknowledging the Lord has been with them in this. It is in Ramon who wasn't healed but is still proclaiming Jesus at the end of his life!
If this story isn't inspiration at it's ultimate, I don't know what is :) Ramon showed me the most inspiration I've ever seen in my life. He reminded me what faith looks like. true, unwavering, unrelenting, immovable, authentic faith.
Though Ramon's story may seem very sad and tragic, I wanted to share it with you that you may be encouraged and possibly seek Truth.
What we've taken from Ramon's journey is just to be grateful for life. For each new day we get to wake up and have breath and live another day. For our loved ones.
Words like
love. hope. peace. courage. strength. faith. joy are not usually associated with death, right? but in Jesus they are.
Natural human emotions would dictate us to be sad about Ramon dying at only 31 years.
There is actually 100000x more joy than sadness for those who believe and have hope. The hope of heaven and Christ. Many years ago, because of His great
love
for us, Christ came and died for us that we may live and not be bound to the sins of the world. He just asks you to make the choice to believe and accept him. That's it. There aren't any strings attached, really and truly! There isn't any thing more you need to do. You don't need to do any good works or perform rituals at church. Just believe! He won't force you to believe. He allows you to come on your own free will.
Anyway, these thoughts are probably really scattered but thank you for letting me share with you - whatever you believe in. perhaps you share these beliefs. maybe don't believe in anything. or maybe you're skeptical of everything I've just shared. Maybe you don't want to read this blog anymore because there's too much Jesus here ;) Whatever the case may be, thank you
for reading Ramon's story.
Thanks you for letting me be vulnerable and share something I so wholeheartedly believe in with you today. ps: if you have any thoughts you want to share, perhaps some questions or even issues you have with this post, please feel free to comment below or email me!
Update: I want to update this post based on a comment I received to note that it is truly with all my heart not my intention to offend anyone through this and if I have offended you, I am deeply sorry for that. That is not what I want you to take from this post whatsoever. Whatever you believe, I appreciate you even reading and with a open heart. I can definitely see how if I read some other post about something when I believe what I do, I would be turned off too! I understand this won't resonate with everyone. but please know I mean no offense.
I thought I'd end this post with something Ramon said on his journal updates. He didn't write on it but his mom interviewed him asking him what he'd want to say to anyone reading. Here's what he said:
"Jesus Christ is Lord. Never let the cloudiness of what is seen take your attention from the unseen. There is a whole other world at work. If we lose sight of that, we lose sight of everything" -
Ramon Vidaurri,
January 29th, 2012