Right now, I am feeling this: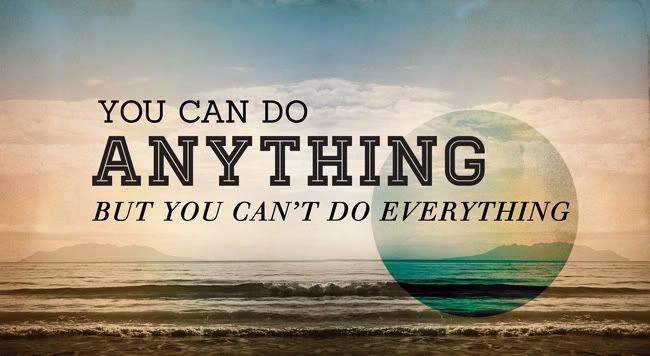 But at the same time, feeling:



So I guess I will just:
Hello my dears. I know I missed Monday's post and there wasn't a post today. I am going to take a couple days off from blogging and will hopefully see you next week. We got back from Austin late Monday night and I am pretty tired with all the craft shows we've been doing.. Definitely feeling a little blog burnout. This quote by
David Allen
has really got me thinking. I have so many ideas and things I want to do - sometimes feel like I can just take over the world. I think I may just have a
slight
problem on focusing (okay, it's a big problem) and I am finding a lot of my work suffers because I spread myself so thin. I want to do so many things that it keeps me from actually accomplishing things in my life and being productive. You can do anything, but not everything. Now if I can only remember this from day to day.
Not sure if any of this is even making sense ;) But what about you? Do you feel overwhelmed at times with things you want to get done? How do you get focused and get things accomplished in your day to day? Any tips on being productive? Anyway. We're having our vintage sale & will be in Santa Ana this weekend for Patchwork - check
the events page
for more details. Thanks for reading friends - see you in a week .. or two :)
photo credits: 1st: typography by me, photo by
brenton little
, image inspired by
this pin
/ 2nd:
besotted blog
/ 3rd:
a blank blog