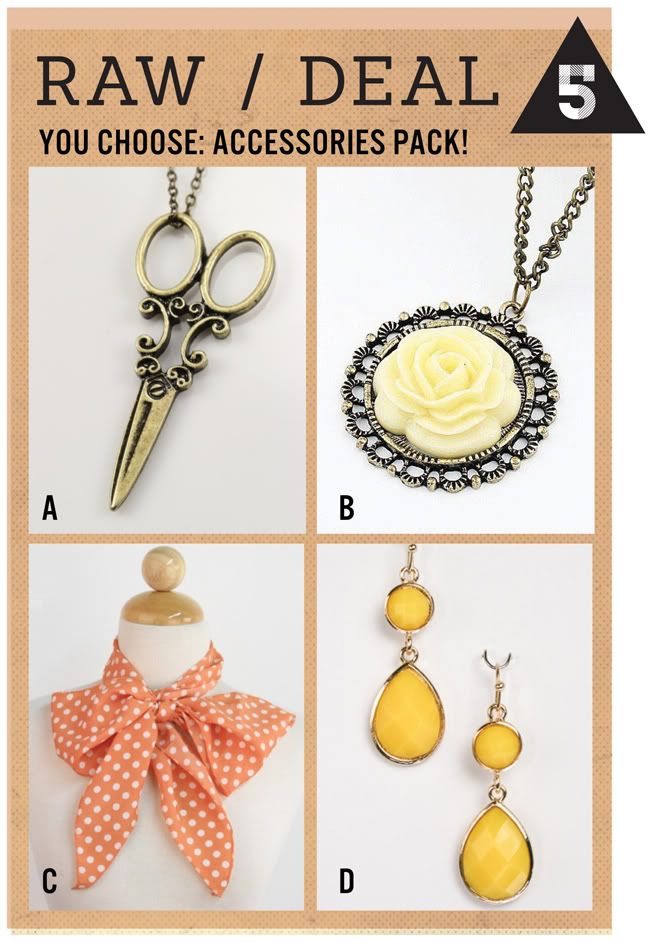 Today's deal is for an accessory pack of 4 items of your choice. I love accessories -- necklaces, scarves, earrings, rings, shoes, it's all so fun. and one can never have too many accessories ;) Here are your choices & the description for each item:
A) Antique brass necklace with cute scissor pendant. Hangs on an 18" chain and charm measures 1.50" long.
B) Ivory resin flower on an antique brass frame pendant necklace. Charm measures 1.5" in diameter and hangs on a 28" chain.
C) Coral polka dot print scarf - approx. 60" long.
D) Pretty yellow jewel fish hook wire drop earrings, measure 1 3/4" long.
E) Brown cord bracelet with gold message bar that reads "hope". Measures 1" L x 1/4" W. Adjustable bracelet.
F) Antique brass camera ring, diameter of ring measures 0.67 inches, a US size 6.5 but is adjustable. Camera charm measures 2.2cm x 1.4cm.
G) Pretty filigree earrings in a rose gold finish. Fish hook earring wire, total length measures 2 1/2".
H) Dusty blue silky scarf with all over house print. Measures approx. 60" in length.
Retail:
$50
RAW Price:
$25
Fine Info:
Deal will remain open until Saturday, May 5th. Offer is open to international residents. S&H to US/Canada is $2.50, and $5 to all other countries. Please allow approx. 1 week for delivery. Any other questions, feel free to email me!
Simply click the "buy now" button below to purchase!
Please note, button must be clicked directly from the blog.
Cannot be purchased through a reader/email.