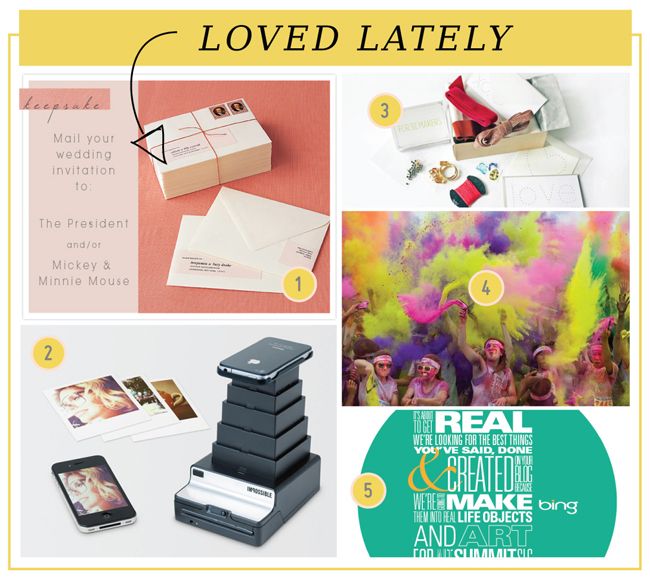 Some lovely blog-worthy links of late, hope you enjoy today's round up and find something useful or fun! Remember, if you have any links to share for our
loved lately
column, feel free to add them in the comments below!
1)
Stumbled upon this fun idea --
mail your wedding invitation
, to the president or mickey mouse and you'll receive something back! How cool!!
2)
Some people are just so creative, don't you think? This idea by
Impossible Project
is so amazing. They ran a
kickstarter campaign
for this - obviously reached their goal. ($250,000, wow!) If you missed it, keep an eye out!
3)
For the makers
has to be one of the coolest mail subscriptions out there. Each month you receive supplies to make 4 projects. All their projects, styling, and photography are gorgeous. How lovely! * update: they are full on December boxes but just got an email from these sweet ladies that oh, hello friend readers can skip the line if you want to order a box - just use code:
HELLOFRIEND! :)
4)
Have you guys heard of a
The Color Run
? Nick & I already put the next OC date on our calendar, we totally want to participate next year. Check out their
locations page
for 2013 event dates.
5)
Do you check the
Alt Summit Blog
? If you don't, you really should add it to your blog list. There are so many helpful posts related to blogging/business. Lots of great resources and quality content - head over and check it out!