::
giveaway is now closed
. please see our
weekly giveaways
for latest giveaways ::
---
to kick off our new 'daily' monday feature, for today's monday giveaway, we have 16 generous shops who have donated tons and tons of beautiful items! the total value of our prizes is a big
$275
worth!
most of these items have been sent to me, i was going to take images of them all but it was super overcast today. but i can tell you: having seen them all, i must say they are the most quality items around!
so, there are
5 ways to enter,
and one lucky person will win all these items on monday, june 8 via random.org. there will also be 2 runner up prizes. so let's take a look at the shops:
1.
mye made
+
blog
.
win
: Pretty in Lace and Pearls zipper bag, value: $22
2.
market store shoppe
+
blog
.
win
: Three Little Words Bracelet, value: $15
3.
steppie
+
blog
.
win
: Ocean Blue "I Am A Ninja" Tote Bag, value: $15
4.
f2images
+
blog
.
win
:
any
print of
your
choice, up to $25 value!
5.
squidsense
win
: frilly pink hair pin, value: $15
6.
williamslenny
win
: recycled bag cutlery roll-up, value: $8
7.
kelsodoesntdance
win
: Yellow Newspaper Wallet - half fold, value: $24
8.
Addalittlegreen
win
: Eco Friendly Bamboo Coasters, value: $12
9.
mybirch
win
: honeydew melon bar of soap, value: $4
10.
darlingsavage
win
: Wonderland Floral Apron, value: $15
11.
lotta helleberg
win
: brown fern sachets, value: $20
12.
oh, hello friend
win
: your choice of 2 hair pins, value: $11
12.
the gilded bee
+
blog
win
a whole pretty package set of:
Turquoise Poppies, $3
Strawberry Pink Primroses, $4
Paper-lacey card set/cocoa/bubble gum pink, $8
Licorice Laurel Border Tags, $2.75
Ring-Ring Tags/Peach, $2.75
Cherry Dot/Baby Blue Pillowboxes -- $3.99
14.
by belinda
+
blog
.
win
: thank you + hello - blank set of 5 greeting cards, value, $24
15.
krecklo

win
: Upcycled Poppy Pin, value: $6
Upcycled Poppy Pouch, value: $10
---
and 2 runner up's will receive these lovely notebooks!
16.
double happiness
+
blog
Trudi has kindly donated 2 sets of notebooks, which will be given to
2 runner up winners.
they will each receive 1 set of notebooks containing:
1 big + 1 little notebook:
airplane
+
bird
, a $20 value!
you can enter up to 5 times! :) read the options below:

1.
Comment
: Visit each sponsor's shop and pick out a favorite item -- then simply leave a comment with the link + shop name! You can do this for up to
three
(3) shops! Please make a new comment for each entry if you want your entries to count as separate chances to win!
any entries over your 3 comments will be deleted.
2.

Post

: about this giveaway on your blog! Either link us or post the banner below! Come back and leave a comment + link to let me know you blogged about it.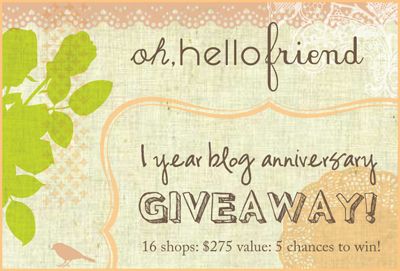 copy & paste to your blog:


3. Twitter: about the giveaway! Come back and leave a comment + link to your twitter!
note:: please be sure to leave your name + email address with your entries so that i may contact you if you win!
giveaway ends on sunday, june 7 at midnight, pst.