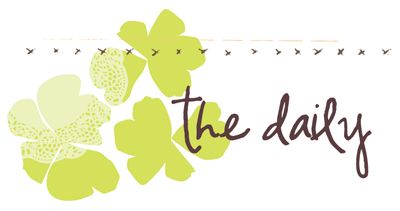 presenting:
oh, hello friend: the (

new

) daily!
back in
december
,
I created a schedule of posts called, "the daily" which featured a certain theme or topic that was posted on it's designated day, daily! i was pretty consistent in posting new content every week and it was nice to add some organization to the blog. with the new blog redesign, you will notice some pretty new 'daily' headers. here is a look at the old daily:
i enjoy change and i thought with the blog redesign, it would be nice to have a new schedule as well. so, i would like to present the new oh, hello friend daily schedule!


( MONDAY )
weekly

giveaway.
that's right, we've got sponsors lined for a lovely giveaway that will happen here every week! so be sure to check back and win some amazing prize
( TUESDAY )
inspire: lovely.
( WEDNESDAY )
lovely goods
( THURSDAY )
resource
this is a new topic that i thought would be fun for all the readers. each week i will offer a resource: it could be a really cool font, a template, tips on designing or crafting, something made by me for you to use, the possibilities are endless!
( FRIDAY )
weekend roundup is a list of week-end links collected from the blog world that may inspire, entertain, encourage, or motivate you over the weekend! this in a way will replace our previous daily, "link love" - friday will also feature classifieds, if anyone has any announcements.
---
so that is it! i hope you enjoy the new content! the posts will not be limited to these things, i will of course post fresh new content along with the dailies. if you would like to see a certain daily , simply click on any of the banners on the right and it will take you right to them! if you have something to submit for any of the daily 's, please email me!