hello friends!
gone are the days when i would simply change my
blog banner
! (i've actually gone through a
couple changes
) now we go through full on blog layout changes! well, i am very excited to announce to you on this monday, june first: the new oh, hello friend blog layout is finally here! :) so for all you friends who read the blog in your reader or rss feed, hurry and
get out and click here
so you can see the new layout!
i will miss the old. i loved the mint and lace: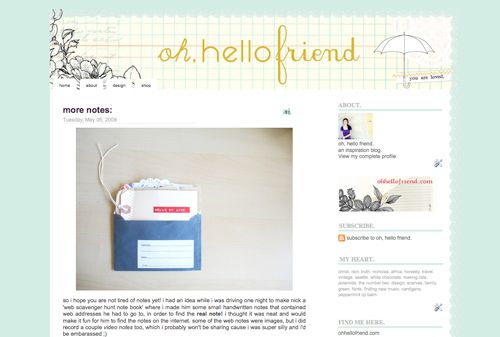 but i do love this fresh warm pastel look: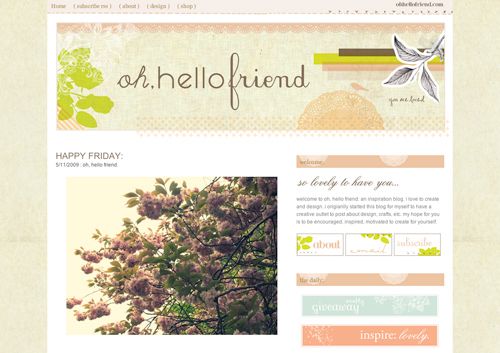 so with the new layout you will notice some new things!
over on the side under welcome, i have an "
about
" page, if you'd like to read more about the blog and me! along with an email button so you can always easily email me, and a button to subscribe to my feed if you enjoy this blog!
i also kind of wanted a 3 column layout, but still liked the 2 column. i'm so indecisive ;) so this was my solution: it
looks
like 2 columns, but it's really 3! awesome!
the daily schedule is now changed (read more about it below) and we have some amazing sponsors supporting the blog as well!
i'll be featuring lots more '
series
' like our last notions series and hopefully getting more '
collections
' together as well.
also: be sure to check out my
friend blog roll here
in addition to all the inspiration blog links. if you have linked me and would like to be added to the blog roll, please comment there and i'd love to add you.
well, that's about all i think! what do you think? i really hope you all like the new blog layout and all the changes going on.
happy monday!