hello dear friends. happy monday! okay, i have loved each and every shop's giveaway since we started the weekly giveaways in june. but this one holds a special place in my heart. what can i say? jessica has been a lovely and dear friend over the past few months. and she has made an
exclusive petite house
for oh, hello friend! the cuteness is almost overwhelming. ;) anyway. here is your chance to win a cute little dwelling with the "hello" banner and red bird pirched on top. AND 2 tree accessories, all wrapped up in the loveliest little box.
jessica is having a
shop update
this week so head on over to her shop to purchase a very sought after dwelling. i personally have a lovely little collection of 3 dwellings myself :)
WIN: an exclusive oh, "hello" friend dwelling, 2 tree accessories, & hand painted box: $43 value!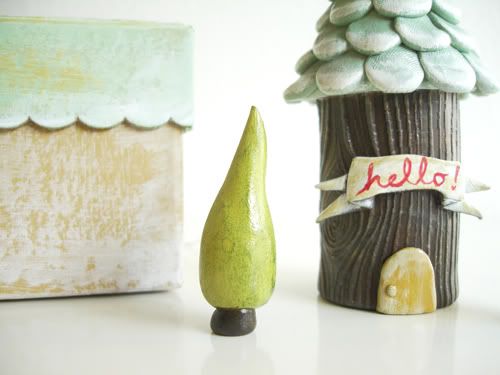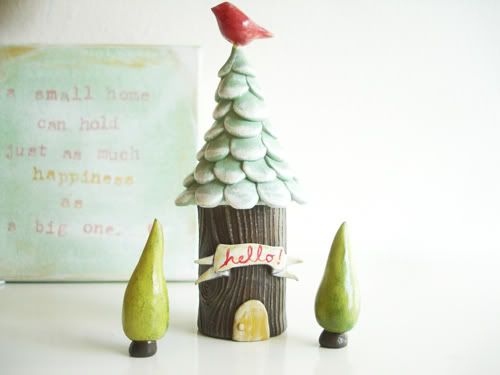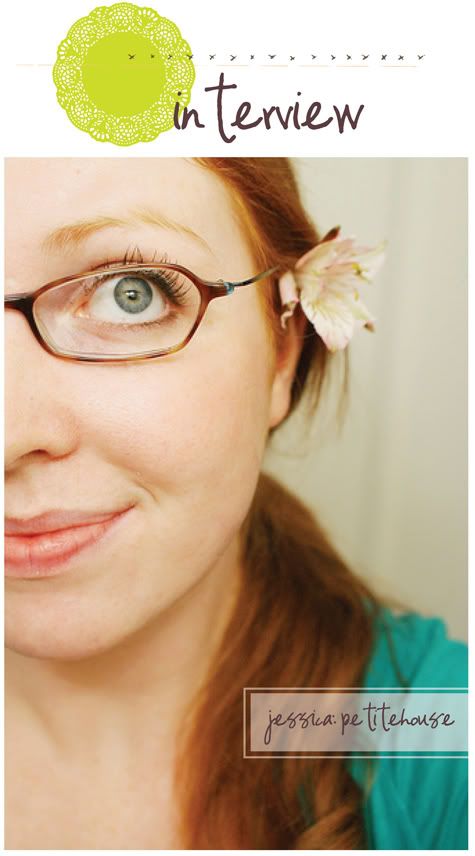 Please share a little about you and your shop:
I am really bad at describing myself. When I was in school we did this assignment, where we all wrote our names at the top of a piece of paper, and passed it around the room. Each student had to write one word describing whoever's name was on the paper. Most of the things people wrote about me were either: nice, shy, and funny. One person wrote that I was a bright light in a once dark room. I'll never forget that.
I guess I could describe myself as pretty independent. I can be really shy or really outgoing, depending on the setting. I love to laugh the most. There is nothing better than a good genuine laugh. Despite my cute and innocent looking artwork, I can be quite sassy with sarcasm.
My shop could be described as cute or whimsical. I like to incorporate nature into my dwellings..some having mushrooms by the door or tree stump bases. I think a village of my houses would be perfect nestled in the forest on a bed of moss, surrounded by ferns and wild flowers.
How did you get started making petite houses?
I guess it made sense to me, because I've always been fascinated with miniature things, especially houses. My aunt and grandma always encouraged me to be a children's illustrator. I know this isn't children's illustrating, but I think my style of cute whimsical art comes out in the houses. I would definitely love to build some villages and gnomes to go with them and make stories to go along with the photos.
What inspires you:
anything and everything! I think mostly colors palettes though. My favorite part of making a house is the painting part, getting to pick out what colors I'll use. I am definitely a mood painter.
Favorite Music:
This is a hard one. I listen to such a variety. One day I'll have something mellow in like Bon Iver...and the next I'll be listening to Bob Segar, CCR, or Lauryn Hill. I have also been known to listen to Paula Abdul every once in a while. I've loved her ever since I can remember. Putting on my stretch pants, baggy shirt, side ponytail, and rocking out to her "Under My Spell Tour" VHS tape. Oh the 90's. I don't care what people say about her, I still love her.


Favorite inspiration links, blogs, or shops:
( a few favorite shops )
Jennifer Morris
|
poodlebreath
|
foxandclover
|
Marmee Craft
|
DuBuhDuDesigns
( a few fav blogs )
The Constant Gatherer
|
knack
|
KatinkaPinka
|
The Noisy Plume
|
resurrection fern
PS: jessica is having a shop update tomorrow!
be sure to check it out!
Visit Petite House and leave a comment with your favorite
item! You can also search through Jessica's sold items at
etsy
just to see all her lovely dwellings! be sure to leave your email address in your entry! feel free to spread the love around your blogs, twitter, etc! it is greatly appreciated friend.
giveaway ends on monday, august 3 at 8am, pst.