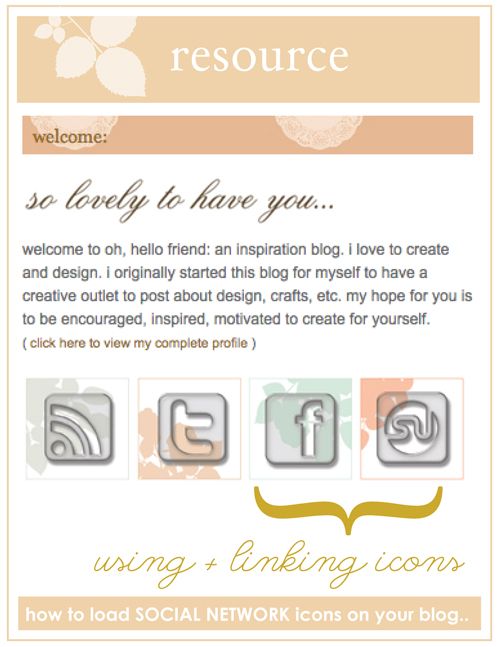 how to add SOCIAL NETWORK ICONS:
i received some comments from readers that they downloaded the social network icons that i
posted about a couple weeks ago
, but they didn't know where to go from there. so for this week's resource, we are going back to basics: an html code that all bloggers should know!
note: this also goes for ANY image you want to post on your blog! just change the address + the photo link! :)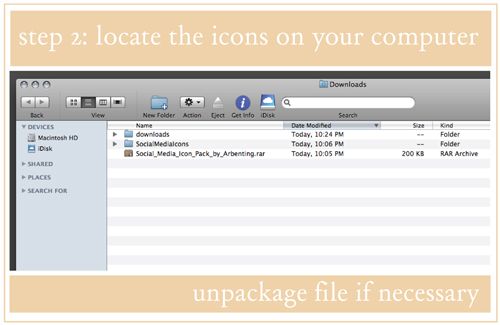 STEP TWO:
locate the folder the images were downloaded to on your computer.
note: They will most likely come in a 'packaged' file.. for instance,
this download
is a .rar package file.
This one
is a .zip file -- either way, you need some sort of program to 'unstuff' them. I have "
stuff it expander
" downloaded on my computer and once I download a packaged file, it just does the rest for me! Then when I go to my downloads, it has the un-packaged file! Nick told me you need
WinRAR
to unpackage a .rar file. If anyone needs help with this, just comment with the icon link you want to download and I can possibly download them for you and send you the icons you want to use. I'll try to help everyone.. If there is a lot, maybe everyone can help eachother out :)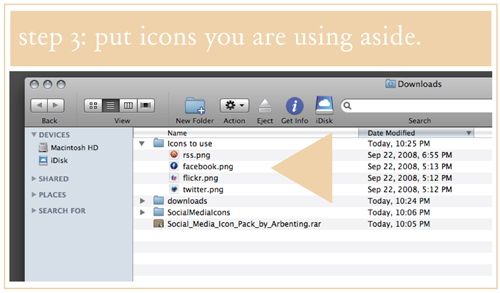 STEP THREE:
place the icons you are using aside in a separate folder. In this instance, I am using twitter, rss, flickr, and facebook.
STEP FOUR.
Go to an image hosting site such as photobucket, flickr - or you can host them on your own server if you have space! I will use photobucket. Upload the image files.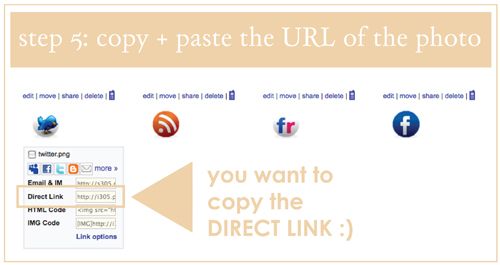 STEP FIVE:
Copy & paste the DIRECT LINK or address of your image.
STEP SIX:
Here is the HTML link that you need to post a linking image on your blog. Change the parts where I type URLofLINKgoeshere :)There is an example below:
COPY & PASTE:
STEP SEVEN: Lastly, in blogger, click "add a gadget" in layout and add the HTML gadget ;)
copy and paste your code and YOU'RE ALL DONE! :) Hurray! Please leave comments with questions, or if this was helpful to you.

Again, this works for ANY IMAGE you want to post as a link! Use it for an email button, an etsy shop button, a friend's banner, whatever!