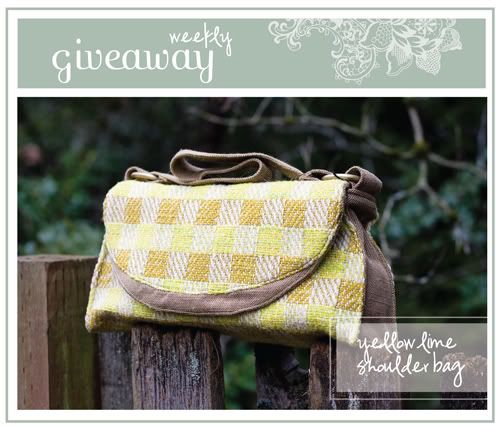 This week, you have a chance to win this
amazing bag
from Ketti, who runs bankgrrl. She is a real sweetheart and all her items are really fabulous. She is also an amazing photographer - see her photo blog + flickr for lots of inspiration. Ketti is one talented lady, and has a little one on due in about a month, so exciting! :)
WIN: yellow-lime check shoulder bag: $45 value!

Please share a little about you and your shop:
I'm
Ketti
, I live in Seattle with my fabulous husband and 2 year old son with a new wee one on the way. I design and make handbags and camera bags and have a budding photography business. My handbag line started about 5 years ago after I finished college and I sold at craft/sample sales all over Southern California. I took an extended hiatus when I first became pregnant and just restarted last year, selling only on etsy. I've combined my 2 passions and have been focusing on creating fashionable camera bags lately. I use upholstery fabrics and love to have a mix of texture as well as pattern.

How did you get started sewing and creating? From an early age I've always had the need to create. My grandma taught me to sew when I was 11, making clothes for the vintage Barbie dolls she still had in the house. In high school I started creating bags out of found objects and kooky materials, and during the time I had no sewing machine, I used a hot glue gun. Now I use my industrial behemoth of a machine which I just LOVE! I went to art school for graphic design and ended up switching to apparel design with the sole intention of starting my handbags business after graduation.

What inspires you: I'm inspired by interior design, graphic design, and talented people who make me want to try harder to be awesome like they are. There is a very practical side to me which drives my designs as well - form follows function in my bags.

Favorite place to travel: Since we recently relocated from LA to Seattle, I love to travel western Washington. It is absolutely stunning here, and I am in awe every day. I dream of traveling to Tokyo and Italy one day.

Favorite Food! That's impossible to give a single answer to, especially being 7 months pregnant... I love just about anything right now. Anything bad for me, that is. Today I just had to have a donut hole. Or two.

Favorite inspiration links, blogs, or shops:


http://www.designspongeonline.com/
http://uppercase.squarespace.com/
http://www.sarahrhoads.com/blog/
Visit bankgrrl and leave a comment
with a favorite item, what you like about her shop, whatever!
Be sure to leave your email address in your entry! feel free to spread the love around your blogs, twitter, etc! it is greatly appreciated friend.
giveaway ends on monday, august 17 at 8am, pst.