hello lovelies! we're back to regular posting this week! hope you enjoyed customer appreciation week! how was your weekend? so i just wanted to write about a couple blog additions:

over the weekend, i added some social networking icons - everyone has them so i figured i should jump on the bandwagon and add some ;) i got them from
this site
: but came across that site from liss of
daydream lily
.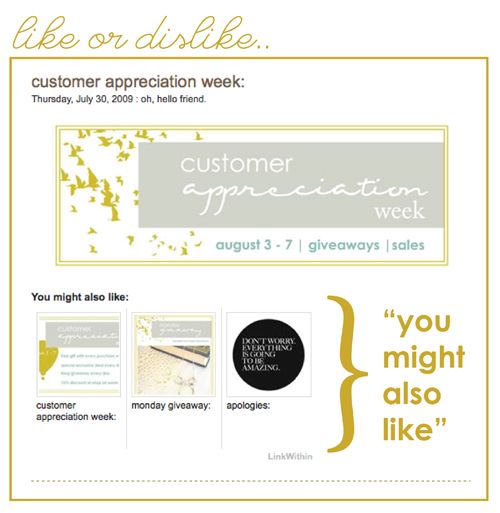 i also added something called
linkwithin
- many blogs have this. linkwithin links 'related' posts after each post. do you like it? i'm not sure how i feel about it. it looks great on other blogs. i never actually knew how to add it until i clicked the link from rachel's blog,
lovely clusters
, hehe. so if you have a blog and want to add this, it's just a widget: go
here
.
anyway, i created a super quick poll with a 'yes' or 'no' if you could vote on if you like it or not, that'd be great! :) thanks!
and lastly, be sure to check out some all new 'inspire" banners in the column - for the latest collection of lovely blogs.