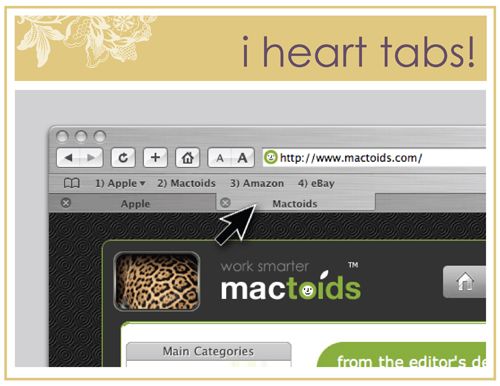 (
image from here.
)
if you don't use tabs in your internet browser, you're missing out! tabs make life so much easier, so much more organized when you're browsing websites. if you're not familiar with tabs,
read about them here
!
i have received some comments from some lovely readers about the right click option: since i have
disabled right click
on my blog. please understand this is to keep the integrity of my blog, since unfortunately, there are some people out there who don't mind stealing other people's designs and hard work.
many of you may use tabs and a common way to use tabs is to right click the link you want to open on your mouse that says "open link in a new tab" -- since right click is no longer an option on this blog, i understand this may be frustrating. and since i've been receiving some comments about it, i am wondering if some of you don't know about the keyboard shortcut to open a new tab.. ?
so i am posting this 'tip' or an extra shortcut to help you tabber's, and hopefully ease that frustration of loosing right click here at oh, hello friend.
it is the
CONTROL
(on windows) +
COMMAND
(on mac) key on your keyboard! you simply hold down the key, and click on the link you'd like to open! (no need for right click) then it will open it up that link in a lovely brand new tab for you! i even made a little chart for you so you know which button on your keyboard it is: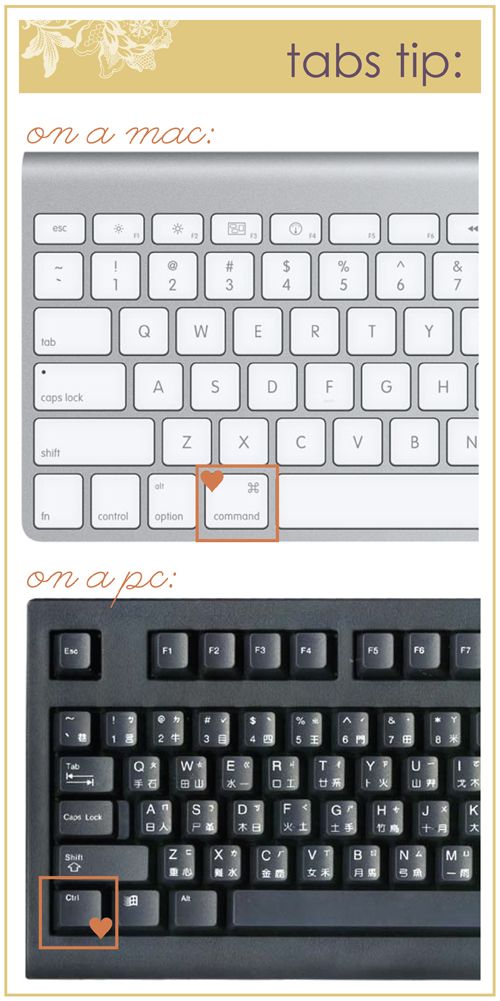 test it now if you'd like!
here is a link
you can click. (just takes you to etsy) remember, hold down the keyboard key first, and then click the link with your mouse! :) hope that helps some of you!
regarding images + content on the blog: if any of you need an image from the blog for whatever purpose, please feel free to email me: i would love to hear from you and get you what you need. i can send you whatever image you'd like if you need it!