happy friday! :) what are your weekend plans? tomorrow bright and early i am heading to the los angeles printers fair! then nick and i are hopefully going to head out to
this lovely friend's
place for a bbq! so here are a few weeks for you to browse this weekend:
1)
vintage glam at great full day
. i love this post, the dresses are just gorgeous. and i love this blog!
2)
wild poppy giveaway at a room somewhere
. one lucky winner will receive this awesome alphabet print! so pretty.
3)
30% OFF
everything

at the kitchen shoppe
. jennifer's shop is so lovely and she is moving! so everything in the shop is 30% off, hurray! i heart vintage.
4)
city of you at city of dionne
. okay, this is my favorite friday post. dionne describes her ideal city, where the mayor gives her free cupcakes, her husband gets off work at 2, and everyone dresses in costumes to football games. LOL. then you describe your city! it is fun reading everyone's descriptions and writings. such creativity :)
5)
paper pastries giveaway at the bright side project
. i first saw margaret's line of stationery at renegade los angeles, but she wasn't at her table so i talked with her boyfriend. but then i met her at our blog social, and she is the sweetest!
three
lucky winners will receive a big package of her amazing designs!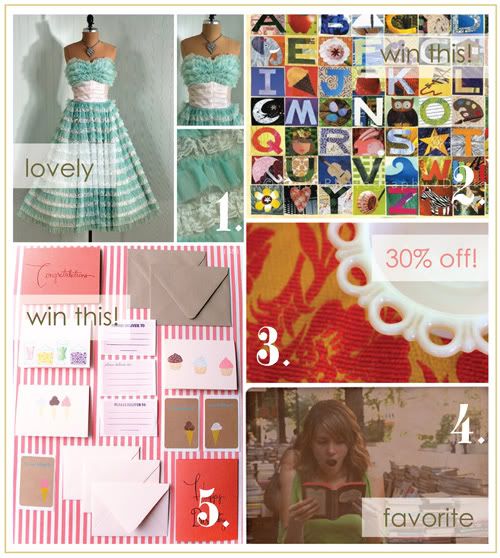 have a wonderful weekend!!
ps: right-click on the blog is
back
- i decided if someone is going to steal my blog content, well, that's just sad. and i do care more about my readers and what is comfortable for
you
guys! xo.